HYDROCARBONS
by Willmer Barahona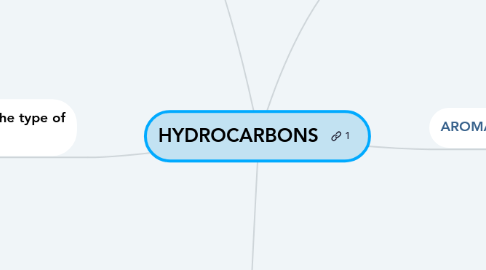 1. A more especific way to classify hydrocarbons is based on the type of chemical bonds of each molecule contains.
1.1. The acacyclic hydrocarbon contains alkanes and alkenes. The cyclic haydrocarbons contains alkynes
1.2. ALKANES
1.2.1. Alophatic hydocarbons containing only single bonds between hydrocarbons.
1.3. ALKENES
1.3.1. Aliphatic hydrocarbons that contains one or more doble bonds between carbon atoms.
1.4. ALKYNES
1.4.1. Molecules that contains triple bond functional group.
2. AROMATIC HYDROCARBONS
2.1. Called bacause many of them have a pleasant aroma, these compounds have a cyclic structure but differ in their properties.
2.2. Its simplest aroma tic hydrocarbon is the BENZENE.
2.2.1. The benzene is composed of a hexagonal ring of six carbon atoms, with each carbon atom bonded to a single hydrogen atom.
3. Are many organic compounds that contains hydrogen and carbon.
4. Often derived from petroleum ,coal, and natural gas, hydrocarbons are vital part of an industralized economy.
5. SUBSTITUTE
5.1. ALCOHOL
5.1.1. Is an organic compound that has had one or mor hydrogen atoms.
5.2. ALDEHYDES AND KETONES
5.2.1. A molecule that contains the functional group is an aldehyde. A ketone is an organic compound that contains a carbonyl group bonded to any other than hydrogen.
5.2.1.1. The most important of kwtone is acetone
5.3. CARBOXYLIC ACID AND ESTERS
5.3.1. An organic compound that contain the acidic functunal group is carboxylic acid. The ester are one of the most important type of reaction.
5.4. AMINES
5.4.1. Is an organic compaounds that contains anly hydrogen , carbon and nitrogen.
5.5. AMIDES
5.5.1. Is he finctional group results.