Intelligence: one's ability to adapt and use prior knowlege in different contexts to learn and/or function
by Bethany Gregory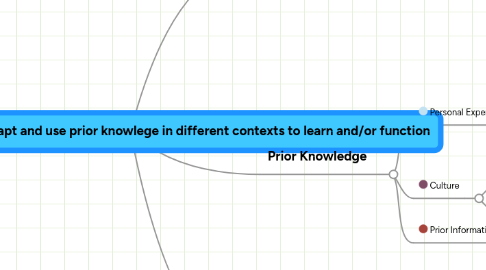 1. Prior Knowledge
1.1. Personal Experiences
1.1.1. Has the person had a prior experiences with this concept?
1.1.1.1. Have the parents had personal experience with this concept?
1.1.2. Is this a brand new concept?
1.1.3. Is the person/child able to make personal conections to the new information?
1.2. Culture
1.2.1. What cultural limitations is placed on the child's gender/social class/ect.?
1.2.1.1. How were the parents raised?
1.2.2. Are there any experiences available or not available due to culture?
1.3. Prior Information known about the concept
2. Environment
2.1. Basic needs
2.1.1. Is this person/child having all of their basic food and shelter needs met?
2.2. Promotes intelligence and learning
2.2.1. Is there anything that promotes the expansion and the use of their intelligence?
2.3. Comfortable
2.3.1. Is there anything in their environment that makes them uncomfortable?
2.3.2. A sence of family/community needs to be formed to make a comfortable environment.
3. Cognitive Processing
3.1. Genetic encoding
3.1.1. What genes did the child receive from their parents?
3.2. Parent Involvement
3.2.1. Do parents promote learning in the home?
3.2.2. Male and female role model in the home?
3.2.3. Are parents providing a nurturing environment?