INDEFINITE PRONOUNS
by Fernanda Quaresma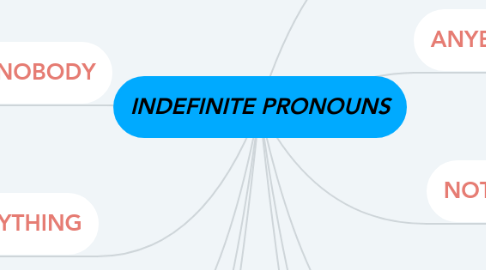 1. SOMEBODY
1.1. A person who is not known, named, or specified.
1.1.1. Somebody left you a message.
2. ANYBODY
2.1. Anybody is a little less formal than anyone. Anyone is used more in writing than anybody.
2.1.1. I need some time to myself, the same as anybody else.
3. SOMETHING
3.1. Something is always translated by something or something and is usually used in affirmative phrases.
3.1.1. We are looking for something to eat
4. ANYTHING
4.1. Anything is a thing or something to which we refer
4.1.1. I want to do anything that takes away the heat
5. NOTHING
5.1. Means nothing and is necessarily used with the affirmative verb.
5.1.1. Nothing else matters.
6. SOMEWHERE
6.1. Somewhere it also refers to a place
6.1.1. Somewhere I will find you
7. ANYWHERE
7.1. anywhere it refers to where we want a place to find us
7.1.1. anywhere I can see you the important thing is to see you
8. NOWHERE
8.1. When nowhere can I find what we need
8.1.1. Nowhere do I find my favorite shirt
9. SOMEONE
9.1. Someone refers to a person
9.1.1. I met someone at the cinema
10. ANYONE
10.1. Anyone can be used when referring to a person
10.1.1. Anyone can go to church because it is public
11. NO ONE
11.1. No one, like the previous ones, is used to refer to a person
11.1.1. No one is like you
12. NOBODY
12.1. Nobody makes reference when there is no one or nobody likes what we like
12.1.1. Nobody wants to go shopping with me