Expert Blogging Funnel
by
Joseph Cromwell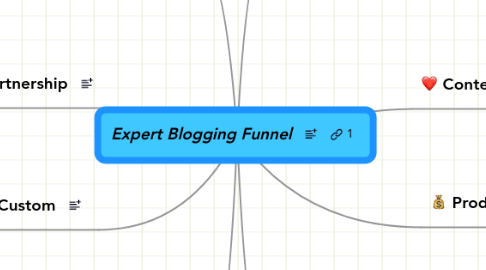 0.0
stars -
0
reviews range from
0
to
5
Creating a funnel that attracts people deeper into your business is the primary goal. You want to think about each of the PC4 points that define your customers interaction with your product/brand. For more ideas on building your Expert Micro-Business, visit www.egosync.com
Permission
Activities that show that the visitor wants to contribute or recieve more information. By taking these actions, they are giving you permission to interact with them.
Subscription
Participation
Content
Free information that you offer to excite and involve your readers. It should be rich content that encourages your readers learn more by purchasing your product. You can monetize your content through affiliate links and test your product ideas by tracking affiliate purchases to determine interest before you release a product.
Current Articles
Streaming Downloads
Timeless Text
Product
Once the reader purchases your product, they become a customer. This is your first sign that they are willing to exchange money for your product or information. Your next task is to retain them and move them to purchase again.
eBook
If you have an eBook in mind, add in a node for each title or category of titles.
Software
If you are offering a software product, then add a node for each of the downloads.
Tangibles
Tangibles are physical products that you are selling. It could be a physical book or other product that requires you to pack and ship it to the customer.
Community
Build a community of loyal followers who provide feedback and ideas for development and pay you regularly for more pertinent content.
Membership
Memberships are clubs that provide your customers access to advanced content that is not shared freely with the public. It is your content squared.
Courses
If one or more of your regular topics is worthy of an educational course, then here is where you can develop those ideas to be delivered as a recurring product membership that has a more definate beginning and ending.
Premium
Enhanced products from your primary offerings that are available to members only or to customers who have purchased from you already. This is a more expensive product that is richer in content or function.
Webinars
Think of the webinar as your interactive Podcast. Set up a time to conduct the session on a particualr topic of interest and allow the participants to interact with you and the content.
Featured Products
Featured products are enhanced versions or your primary product offerings.
Packages
This is a collection of you best products or informational content released as a whole.
Custom
Arrange your product for the specific needs of your customer. This usually requires more of your physical time and therefore commands a higher price than your primary or premium proiducts.
Live Seminars
Seminars or product demonstrations conducted in front of a live audience. These presentations can be custom tailored to your audience.
Private Label
Allowing your customer to use your product as if it were their own. This is more for a customer looking to profit from your product/ideas and can be quiet lucrative if you assist them it customizing your product/ideas to there needs and selling them the right to promote it as theirs.
Coaching
Coaching can be done in person on online and can be for a single person or small group. It requires more of your time and commands a higher price than courses in your community.
Partnership
Involves your distribution and promotion efforts. They are not a direct area of monetization but can provide many opportunities for getting your product promoted through association with others.
Distribution
 Distribution partnerships add value and can reduce costs. Examples can be drop shippers, 3rd party hosting for downloads or consignment opportunities in offline businesses.
Promotion
Communication
Efforts to attract visitors to your website or place of business.
Online
Offline