CHAPTER 17 : DIRECT, ONLINE, SOCIAL MEDIA, AND MOBILE MARKETING
by syaida yusoff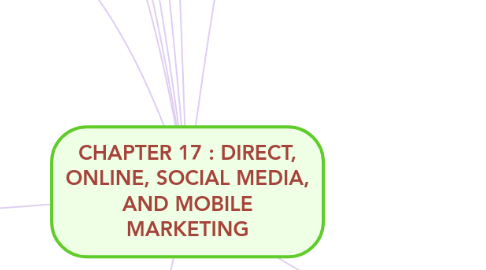 1. Direct & Digital Marketing
1.1. involve engaging directly with carefully targeted individuals consumers and customers communities to both an immediate response and build lasting customers relationship.
1.2. Example: Lazada.com interact directly with customers via its websites and mobile apps.
1.3. RAPID GROWTH OF DIRECT & DIGITAL MARKETING :
1.3.1. Direct and Digital Marketing have become the fastest-growing form of marketing.
2. Benefits Of Direct & Digital Marketing to Buyers
2.1. Convenience
2.2. Buyers or customers can make purchases from their home or office just using website from online or mobile apps for buy the product or service.
2.3. No sales people
2.4. Shoppers don't enjoy dealing with sales people because they prefer using direct marketing without face to face to interact with them.
2.5. Special offers
2.6. Buyers may have access to special offers that are only available through direct marketing.
3. Benefits of Direct & Digital Marketing to Sellers
3.1. Provides low-cost and efficient
3.2. Direct marketing often provides a low cost, efficient, speedy alternative for reaching their markets.
3.3. Offers seller greater flexibility
3.4. The marketers make ongoing adjustments to price and programs, or create immediate, timely and personal engagement and offers.
4. FORMS OF DIRECT AND DIGITAL MARKETING
4.1. Digital and social media marketng
4.2. Online marketing(websites,online advertising, email, online videos,blogs),social media marketing, mobile marketing
5. DIGITAL AND SOCIAL MEDIA MARKETING
5.1. Using digital marketing tools such as websites, social media, mobile apps and ads, online video, email, and blogs that engage consumers anywhere, anytime via their digital devices
6. MARKETING, THE INTERNET,AND THE DIGITAL AGE
6.1. Omni-channel retailing creates a seamless cross-channel buying experience that integrates in-store, online, and mobile shopping—creates a single shopping experience
7. Online Marketing
7.1. Online marketing
7.2. marketing via the Internet using company Web sites, online ads and promotions, e-mail, online video, and blogs.
7.3. Marketing Web sites
7.4. engage consumers to move them closer to a direct purchase or other marketing outcome. exp: GEICO
7.5. Branded community Web sites
7.6. present brand content that engages consumers and creates customer community around a brand. exp: ESPN
7.7. Online advertising
7.8. advertising that appears while consumers are browsing online and includes display ads, search-related ads, online classifieds, and other forms.
7.9. E-mail marketing
7.10. involves sending highly targeted, highly personalized, relationship-building marketing messages via e-mail.
7.11. Spam
7.12. unsolicited, unwanted commercial e-mail messages.
8. Social Media Marketing Advantages And Challenges
8.1. Targeted and Personal
8.2. Cost effective
8.3. Immediate and timely
8.4. Engagement and social sharing capabilities
8.5. Mobile Marketing
8.5.1. Mobile marketing is a multi-channel, digital marketing strategy aimed at reaching a target audience on their smartphones, tablets or other mobile devices via websites, email, SMS and MMS, and apps.
9. TRADITIONAL DIRECT MARKETING FORM
9.1. DIRECT-MAIL MARKETING
9.1.1. Occurs by sending an offer, announcement, reminder or other item directly.
9.1.2. Type Of Direct-Mail Marketing
9.1.3. Catalogues
9.1.4. Postcard
9.1.5. Self-Mailers
9.1.6. Dimensional Mail
9.1.7. Advantage
9.1.8. Communicate one to one with target audience.
9.1.9. Allow to control who receive the message.
9.1.10. Effective at getting response.
9.2. CATALOG MARKETING
9.2.1. Through print, video, or digital catalogs that are mailed to select customers made available in stores or presented online.
9.2.2. Type Of Catalog Marketing
9.2.3. Online catalog
9.2.4. Print catalog
9.3. TELEMARKETING
9.3.1. Process of selling product or services over the telephone
9.3.2. Telemarketing Activities
9.3.3. Outbound
9.3.4. Inbound
9.4. DIRECT-RESPONSE TELEVISION MARKETING
9.4.1. Refer to any television commercial which prompts viewers to contact the company directly
9.4.2. 2 Major Forms
9.4.3. Direct-Response Television Advertising
9.4.4. Interactive Television (iTV) Advertising
9.5. KIOSK MARKETING
9.5.1. A small stand alone units that performs a specific function, generally without management intervention.
9.5.2. Advantaget of Kiosk Marketing
9.5.3. Multiple Location
9.5.4. Flexible hour of operation
9.5.5. Easy maintenance
10. PUBLIC POLICY ISSUES IN DIRECT AND DIGITAL MARKETING
10.1. PUBLIC POLICY
10.1.1. As a system of laws regulatory measures, courses of action and funding priorities concerning a given topic promulagated by a governmental entity or its representatives.- A major aspect of public policy is law.
10.1.2. IRRITATION
10.1.2.1. Includes annoying and offending customers
10.1.3. UNFAIRNESS
10.1.3.1. Includes taking unfair advantage of impulse or less
10.1.3.2. -sophisticated buyers
10.1.4. DECEPTION
10.1.4.1. Includes 'heat merchants' who design mailers and writer copy designed to mislead consumers.
10.1.5. FRAUD
10.1.5.1. Includes identity theft and financial scams
10.2. CONSUMER PRIVACY
10.2.1. Involves concern that marketers may have too much information and use it to take unfair advantage. Protection is the use of laws and regulations to protect individuals from privacy loss due to the failures and limitations of corporate customer privacy measures.
10.2.2. The Personal Data Protection Act 2010 (PDPA) protects personal data from being misused.
10.2.3. Personal data is defined as any information collected or processed in connection to commercial transaction by any equipment operating automatically (eg, ATM, computer) which is capable of identifying a person.
10.2.4. The Act will imposes a duty on data users to put in place adequate the theft, misuse, unauthorized acces, accidental disclosure, alteration or destruction of data under their care. The Act also provides for the rights of data subjects access, modify and update their personal data.
10.3. A NEED FOR ACTION
10.3.1. AdChoices
10.3.2. Can Spam
10.3.3. Children's Online Privacy Protection Act (COPPA)
10.3.4. TRUSTe