Health Information Technologies by Aaron Jossart
by Aaron Jossart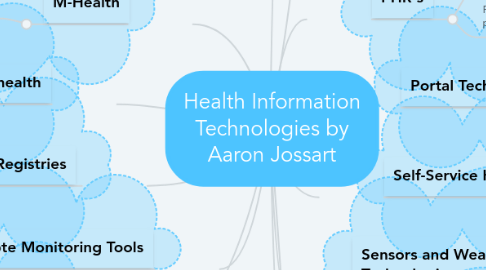 1. EHR's
1.1. Electronic Health Records
1.2. Online database - privacy and security need to be monitored closely
2. PHR's
2.1. Personal Health Records
2.2. Paper/electronic format usually kept in the patient file
3. E-Prescribing
3.1. Electronic Prescribing
3.2. Links the doctors/hospitals to the pharmacy for faster prescription fills/refills
4. M-Health
4.1. Mobile Health
4.1.1. Allows physicians to check patient health on the go without being restricted to an office or patient room setting.
5. Telehealth
5.1. This is a way for physicians to do a full assessment through video chat and claims are then automatically generated.
6. Portal Technology
6.1. AKA patient portals gives the patient 24 hour access to their health records with an internet connection
7. Computerized Disease Registries
7.1. Utilized to support care management for those that suffer from multiple diseases such as diabetes, coronary artery disease, asthma, etc.
8. Self-Service Kiosk
8.1. Allows the patient to log on and change/update medical records or request refills
9. Remote Monitoring Tools
9.1. Allows you to manage all your stored data from one location
10. Sensors and Wearable Technologies
10.1. These devices allow an alternate way to collect data from a patient and alert potential problems. They can detect Ph levels, falls, etc.
11. Wireless Communication
11.1. This allows nurses and those alike to take patient info without being restricted to a wired connection. This could be in the form of a tablet, laptop, etc.
12. Real Time Locating Services
12.1. Helps hospitals locate and find potential problems in the hospital setting. This also helps the hospitals function more efficiently.
13. Pharmacogenomics/genome sequencing
13.1. This allows physicians to tailor their treatment plans and anticipate the onset of certain diseases.