The internet and effective internet searching
by Abbey Agostino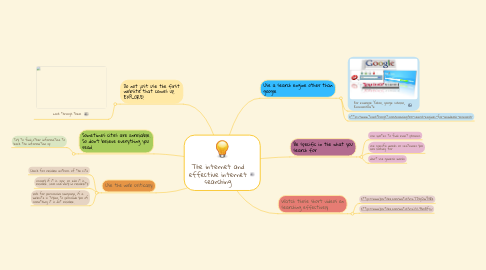 1. Use a search engine other than google
1.1. For example: Yahoo, google scholar, ResearchGate
1.2. https://www.teachthought.com/learning/100-search-engines-for-academic-research/
2. Do not just use the first website that comes up. EXPLORE!
2.1. Look through them
3. Be specific in the what you search for
3.1. Use quotes to find exact phrases
3.2. use specific words or sentences you are looking for
3.3. don't use generic words
4. Sometimes cites are unreliable. So don't believe everything you read.
4.1. Try to find other information to back the information up
5. Use the web critically
5.1. Check for reliable authors of the cite
5.2. Usually if it is .gov, .or .edu it is reliable. .com can vary in reliability
5.3. look for persuasive language, if a website is trying to persuade you of something it is not reliable.
6. Watch these short videos on searching effectively
6.1. https://www.youtube.com/watch?v=LTJygQwYV84
6.2. https://www.youtube.com/watch?v=LVV_93mBfSU