Effect searching for year 2
by Olivia Di Lena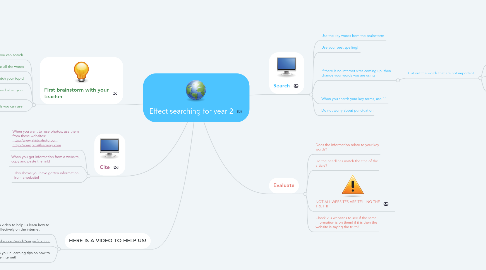 1. First brainstorm with your teacher
1.1. Brainstorm key words that you can search
1.2. Make sure you understand all the words
1.3. Make sure the keywords match your topic!
1.4. These key words will be used when your search on the internet
1.5. Have more then 4 key words you can use!
2. Search
2.1. Use the key words from the brainstorm
2.2. Use your best spelling!
2.3. If there is no internet sites coming up, then change your words you are using
2.3.1. Cut out the words that are not important
2.3.1.1. Use only the key words
2.3.1.2. Be more specific when you search
2.3.1.3. If you need help ask your teacher for more words to use
2.4. When you search your key terms, use ""
2.5. Do not worry about punctuation
3. Evaluate
3.1. Does the information relate to your key words?
3.2. Do the headlines match the title of the article?
3.3. NOT ALL WEBSITES ARE TELLING THE TRUTH!
3.4. Check 2-3 websites to see if the same information is on them! if it is then the website is saying the truth!
4. Cite
4.1. When you want to use photos, use them from these websites: http://www.akidsphoto.com http://www.pics4learning.com
4.2. When you get information from a website, copy and paste the link!
4.3. This shows you have gotten information from a website!
5. HERE IS A VIDEO TO HELP US!
5.1. Here is a video to help us learn how to search effectively on the internet
5.2. https://www.youtube.com/watch?v=qwzf-J73u5c
5.3. This will help you in learning tips on how to search on the internet!