Using the internet responsibly ethically and safely.
by Connor Howley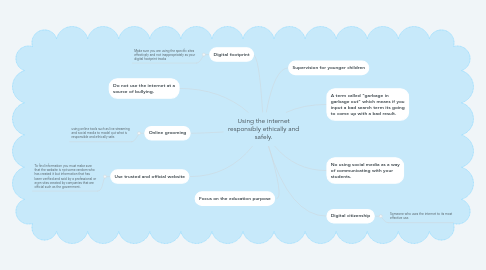 1. A term called "garbage in garbage out" which means if you input a bad search term its going to come up with a bad result.
2. Digital footprint
2.1. Make sure you are using the specific sites effectively and not inappropriately as your digital footprint tracks
3. No using social media as a way of communicating with your students.
4. Do not use the internet at a source of bullying.
5. Online grooming
5.1. using online tools such as live streaming and social media to model out what is responsible and ethically safe.
6. Digital citizenship
6.1. Someone who uses the internet to its most effective use.
7. Use trusted and official website
7.1. To find information you must make sure that the website is not some random who has created it but information that has been verified and said by a professional or even sites created by companies that are official such as the government.
8. Supervision for younger children
9. Focus on the education purpose