Modal verbs to express obligation
by Veronica Castiglione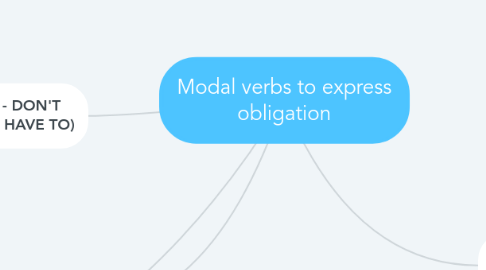 1. A PERSONAL INTERNAL OBLIGATION OF THE SPEAKER
1.1. I MUST CUT MY HAIR. IT IS TERRIBLE!
1.2. TODAY IS MY MUM'S BIRTHDAY. I MUST GIVE HER A PRESENT.
2. MUST - MUST NOT - MUSTN'T
2.1. A STRONG OBLIGATION - A LAW - A RULE
2.1.1. YOU MUST DRIVE ON THE LEFT IN THE UK.
2.1.1.1. YOU MUSN'T SMOKE AT SCHOOL. DIVIETO
3. HAVE TO (HAS TO) - DON'T HAVE TO (DOESN'T HAVE TO)
3.1. AN EXTERNAL OBLIGATION
3.1.1. I HAVE TO STUDY A LOT. MY HISTORY TEACHER GAVE US A LOT OF HOMEWORK FOR TOMORROW.
3.2. HAD TO (PASSATO) DOVEVO, HO DOVUTO - DIDN'T HAVE TO - DID YOU HAVE TO ...- WILL HAVE TO (DOVRO') - WON'T HAVE TO - WILL YOU HAVE TO ...? -
3.3. DON'T HAVE TO : LACK OF OBLIGATION
3.3.1. YOU DON'T HAVE TO BUY A NEW MOBILE PHONE, MUM. I'LL GIVE YOU MINE.
3.3.1.1. NON DEVI - NON HAI BISOGNO DI FARLO - NON E' NECESSARIO
4. SHOULD - SHOULD NOT - SHOULDN'T
4.1. CONDIZIONALE PRESENTE: IO DOVREI, TU DOVRETSI, EGLI DOVREBBE, NOI DOVREMMO, VOI DOVRESTE, ESSI DOVREBBERO
4.2. ADVICE
4.2.1. YOU SHOULD GO TO THE DOCTOR.
4.2.2. YOU SHOULDN'T SPEAK TO YOUR PARENTS LIKE THAT.