Adaptations
by The DabbingStickman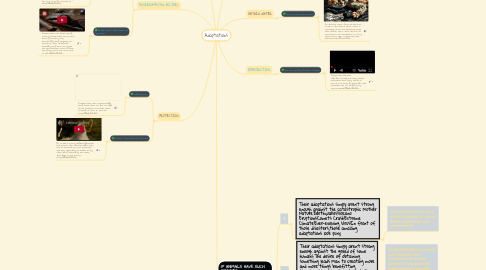 1. Hmm I don't quite agree with this. All living things die but not all of them go extinct. - Mr Chandran
2. OBTAIN FOOD
2.1. Komodo Dragon(Varanus komodoensis)
2.1.1. It has a very filthy mouth,full of bacteria.That may not sound impressive,but the way it uses this awful mouth is.It bites its prey and wait until the prey is infected by the bacteria and die before eating the prey!The best method for hunting!Crazy!BEHAVIOURAL.
3. OBTAIN WATER
3.1. Thorny Devil(Moloch Horridus)
3.1.1. It absorbs water from its skin!Since it lives in the desert where water is extremely rare,it has developed scales that absorb water which will then be channeled to its mouth!Never to worry about thirst when in desert(it lives there)!Serious!STRUCTURAL.
4. EXCHANGE OF GASES
4.1. Frog(Anura)
4.1.1. Another super-common example,yet with incredible wayS to obtain needed gases from the surroundings.It has actually two ways!When in water,it gets the needed gases through moist skin.When on land,it uses its lungs,just like us!This allows it to survive both on land and in water.STRUCTURAL.
5. ENVIRONMENTAL FACTORS
5.1. Hippo(Hippopotamus Amphibius)
5.1.1. I know you may think that the animal is very common,but,it sweats 'blood'!Well,it's not actually blood but it's called 'blood sweat'.The red substance protects the hippo from the super-hot Sun so it won't be roasted to death!BEHAVIOURAL.
5.2. Alaskan Wood Frogs(Lithobates sylvaticus)
5.2.1. Freezes their own bodies during winter!Moreover,their hearts stop beating and they stop breathing!By doing this,they can survive at even -16 degrees Celsius!By doing so,it can survive the merciless,cold winter! (BTW,in spring,they thaw and 'come back to life')BEHAVIOURAL.
6. PROTECTION
6.1. Hagfish(Myxini)
6.1.1. Produces slime when threatened!By doing so,the slime can get into gills of its predators and choke them to death so that it won't be eaten!BEHAVIOURAL.
6.2. Northern Fulmar(Fulmarus glacialis)
6.2.1. OK...so,this is pretty disgusting,but,this bird 'vomits' when threatened!It spits out its stomach oil at its predators and they would likely be unable to fly after being covered by the 'vomit' which gives it the time to escape!BEHAVIOURAL.
7. REPRODUCTION
7.1. Blue-footed Booby Bird(Sula nebouxii)
7.1.1. Yes,you did read that right.Blue-footed and super cute,it sometimes does funny things to attract its mate.It dances(It also stretches out its wings)!Pretty attractive,huh?BEHAVIOURAL.
8. IF ANIMALS HAVE SUCH AMAZING ADAPTATIONS,WHY DO SOME OF THEM STILL GO EXTINCT???
8.1. 1.
8.1.1. Their adaptations simply aren't strong enough against the catastrophic Mother Nature.Earthquakes!Volcano Eruptions!Comets Crash!Extreme Climate!Ever-evolving Virus!In front of those disasters,those amazing adaptations look puny.
8.1.1.1. Example:Dinosaurs went extinct because of one of these reasons.No one knows which.
8.2. 2.
8.2.1. Their adaptations simply aren't strong enough against the greed of some humans.The desire of obtaining something leads Man to creating more and more things benefitting themselves,in order to get what they want.Guns!Paralysing Medicines!Poisonous Gas!Explosives!Electric Chain Saw!The awesome adaptations aren't adapted to adapt to these awful tools!
8.2.1.1. Example:Buffaloes almost went extinct when Europeans set foot in America.They poached those innocent animals and called it a 'sport'(luckily the government saved this species before it totally disappeared).
8.3. 3.
8.3.1. Their adaptations simply aren't strong enough against...DESTINY.Birth and Death are an ever-repeating cycle.Neither can exist when the other one doesn't.They cannot be separated.That's how things are from the very beginning.All beings are DESTINED to die after birth,so to maintain the equilibrium in all.
8.3.1.1. Example:It's ALL around us.There are always new ones coming and old ones going.It's a rule that no one can disobey.