SVA Media Literacy & Communications Planning
by
The Media Spot, LLC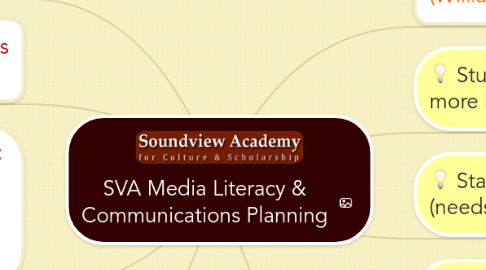 0.0
stars - reviews range from
0
to
5
SVA Media Literacy & Communications Planning
SVA Websites
Class Websites
not uniform.  linked under "student resources" on www.soundviewacademy.org
Staff Portal
Scholars
not built yet
Skedula
All teachers have logged in and have had PD as of 1.25.12.
issues to tackle in 2012-13
Google Apps Planning: Staff/Student Accounts, Shared Documents, Class Websites, etc.
Google Docs: all student word processing 6-8
Would require the staff getting on board and establishing this as a routine. Could stagger the starting of this by grade to keep it manageable. Big question is access to the computers.
Google Sites: Class Websites; School Website (est 2010-12) (see SVA Websites Above)
Google Docs SVA Shared Collections Matrix (est. 2011-12)
Google+ 2012-13?: Social Network Connected to Student Accounts
8:30-4pm on Tues. 8.30.11 8hrs total (minus lunch hr) 30 mins tech setup, 3hrs morning, 1hr Lunch, 3hrs afternoon, 30mins tech breakdown approx. 30 teachers Start with Data (Cabrera) Curriculum Design (Cabrera/Rhys/Rosenberg) Best Digital Practices (Rhys)
Google Apps & Gmail Communication (Martinez's Domain)
Martinez will manage student & staff accounts (with turnkeying from Domingo & Rhys)
Domingo has managed Groups - change to Martinez
separate core staff from external staff
teachers should know about sharing groups
teachers should learn to share with all staff vs. specific collaborators & students
Student Goals 2012-13 (needs more input)
Google Docs for all Word Processing & Portfolio 6-8
Integrated production demonstrating performance-based tasks (starting with grade 8 Lopez/? connection)
Can we attack this through collaborative planning with Lopez?
Staff Goals 2012-13 (needs more input)
Managing Portfolios
Prep for QR
Assessments (& Evaluation of Assessments)
Evaluating Team Collaboration Efficiency
iZone Future State design goals
Rhys' Consulting Agendas 2012-13 (10 Days)
QR Matrix Prep & Google Apps Review (1-2 Days)
Mapping the Assessment Culture: Creating a Matrix of Team Preparedness (4 days)
Documenting PBAs that are Common Core aligned
Inquiry Team: Defining, Consolidating & Documenting Blended Learning Practices (4 days + time built in to other days)