Defamation
by hafiza rakbi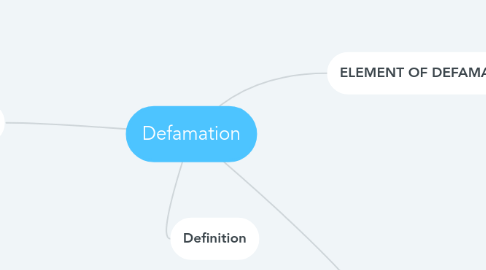 1. Publication of statements which reflects on a person's reputation and tend to lower him in the estimation of society generally or tends to make them shun or avoid him.
2. Definition
3. ELEMENT OF DEFAMATION
3.1. The words must be defamatory
3.1.1. Must tend to lower the plaintiff's reputation in the estimation of right minded person or must tend to cause him to be avoided.
3.1.1.1. Normala Shamsudin v Keluarga Communication
3.1.1.2. Ummi Hafilda Ali v Karangkraf Sdn Bhd
3.1.2. Natural & Ordinary Meaning
3.1.2.1. Hasnul Bin Abdul Hadi v Bulat B. Mmohammad
3.1.3. Intent of the publisher is irrelevant
3.1.3.1. Cassidy v Daily Mirror Newspaper Ltd
3.1.4. Words that are merely abusive and not defamatory
3.1.4.1. Penfold v Wescote
3.1.5. INNUENDO
3.1.5.1. False Innuendo
3.1.5.1.1. Syed Husin Ali v Perchetakan Utusan Melayu
3.1.5.2. True Innuendo
3.1.5.2.1. Tolley Fry v Sons Ltd
3.2. The words must refer to the plaintiff
3.2.1. REASONABLE MAN TEST
3.2.1.1. No name mentioned
3.2.1.1.1. Morgan v Odhams Press Ltd
3.2.1.2. Fictional Name
3.2.1.2.1. Hulton v Co v Jones
3.2.1.3. Two persons with same name
3.2.1.3.1. Newstead v London Express Newspaper Ltd
3.2.1.4. Defamation of class
3.2.1.4.1. Knupffer v London Express Newspaper Ltd
3.3. The words must be published
3.3.1. Pullman v W.Hill
3.3.2. Workers Party v Tan Boon Too
4. TYPES OF DEFAAMATION
4.1. LIBEL
4.1.1. DEFAMATORY STATEMENT OR REPRESENTATION IN PERMANENT FORM
4.1.2. EG: PICTURES, STATUTE, WRITING, SIGN
4.1.3. CRIME UNDER SECTION 499 OF PENAL CODE
4.1.4. PUNISHABLE UNDER SECTION 500
4.2. SLANDER
4.2.1. DEFAMATORY STATEMENT CONVEYED BY SPOKEN WORDS OR GESTURES
4.2.2. NOT ACTIONABLE PER SE
4.2.3. IT IS NOT A CRIMINAL OFFENCE