Theoretical Perspectives of Language Development
by
Wendy Lizardi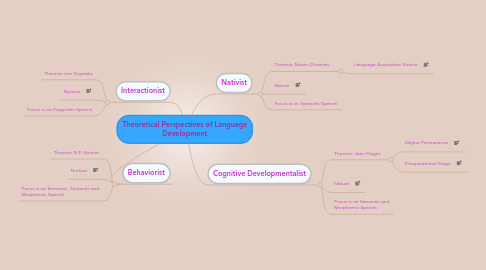 0.0
stars - reviews range from
0
to
5
Theoretical Perspectives of Language Development
Nativist
Theorist: Noam Chomsky
Nature
The nativist perspective on language development is the belief that innate human capabilities are the responsible for language development, (Otto, 2010, p 27).
Focus is on Syntactic Speech
Behaviorist
Theorist: B.F. Skinner
Nurture
Behaviorists and interactionists emphasize the role of nurture in language acquisition, (Otto, 2010, p 31). Behaviorists believe that language knowledge comes from outside stimuli that link events, responses and behavior, as well as through imitation, (Otto, 2010, p 31). This is referred to as operant conditioning. Imitative speech serves as reinforcement on language development, (Otto, 2010, p 32).
Focus is on Semantic, Syntactic and Morphemic Speech
Cognitive Developmentalist
Theorist: Jean Piaget
Nature
Language is acquired as a child matures, and cognitive competences develop, (Otto, 2010, p 30).
Focus is on Semantic and Morphemic Speech
Interactionist
Theorist: Lev Vygotsky
Nurture
The interactionist provides for a theory that further supports the nurture perspective. The theory is that language acquisition "is a process, rather than a product of development," and is due to the child seeking out interaction in their environment, (Otto, 2010, p 33). The interactionist refers to support from the environment (in conversation; listening, responding, clarifying, repeating, asking questions) as the learning acquisition support system (LASS, (Otto, 2010, p 35).
Focus is on Pragmatic Speech