Lucruri pentru care sunt recunoscătoare
by Denisa Guianu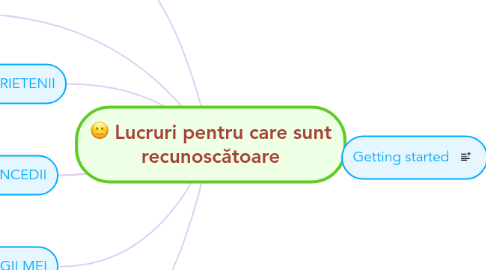 1. TEHNOLOGIE
1.1. Tehnologia este un mod de a organiza universul astfel incat omul sa nu fie nevoit să-l experimenteze. (Max Frisch).
2. COLEGII MEI
2.1. Îmi place să lucrez în pace și eficient cu cei care îmi sunt colegi.
3. PRIETENII
3.1. "Prietenii sunt familia pe care ți-o alegi singur."
4. EDUCAȚIA PRIMITĂ
4.1. Educaţia este ceea ce rămâne dupa ce ai uitat tot ceea ce ai învățat în școală."
5. CONCEDII
5.1. Iubesc să călătoresc, să îmi vizitez țara frumoasă.
6. Getting started
6.1. DRAGOSTE
6.2. SĂNĂTATE
6.3. FAMILIE
6.3.1. iubire
6.4. Choose icons and images to decorate your mind map
6.5. Tot ce am primit de Sus și am construit aici pe Pământ mă fac să fiu recunoscătoare pentru viața ce o trăiesc.
6.6. Tot ceea ce fac în viață este cu bucurie.
6.7. Ador să descopăr lucruri noi și să experimentez.
6.8. Advanced
6.8.1. Open the Theme menu from the bottom of your map editor to change your map theme
6.8.2. Create a presentation of your mind map by clicking the presentation icon in the bottom left corner of your screen
6.8.2.1. Simply hold down COMMAND i.e. CTRL and Click & Drag to create a slide for one or multiple topics
6.8.2.2. Set transitions for your slides
6.8.2.3. Click "Start Slideshow" to view your presentation
6.8.3. Open the Sharing Settings from the bottom of your map editor to share the map with a friend or publish it to the web
6.8.3.1. You can share your map with anyone via email
6.8.3.2. You can publish your map and enable anyone with an internet access to find it
6.8.3.3. You can embed your map on a blog or website
7. FERICIRE / RECUNOȘTINȚĂ/ DRAGOSTE PENTRU VIAȚĂ
8. COPIII din viața mea