How to Teach Reading to Elementary and Middle School Students: Practical Ideas From Highly Effective Teachers
by Abdul Azim Azmi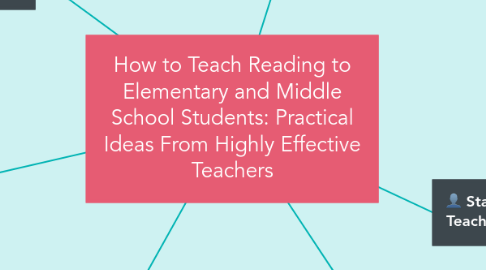 1. Standards for Classroom Teacher Candidates
1.1. Foundational Knowledge.
1.2. Instructional Strategies and Curriculum Materials.
1.3. Assessment, Diagnosis, and Evaluation.
1.4. Creating a Literate Environment.
1.5. Professional Development.
2. Characterictics of Influential Teachers
2.1. Show that they care about students.
2.1.1. Help students understand and solve their personal and academic problems.
2.1.2. Manifest excitement and enthusiasm about what they teach.
2.1.3. Adapt instruction to the individual needs, motives, interests, and aptitudes of students and have high expectations for them.
2.1.4. Use motivating and effective strategies when they teach.
2.1.5. Engage students in the process of intellectual discovery.
3. Piaget's Theory of Cognitive Development
3.1. Children create structures (schemata) for thinking about things.
3.2. These structures change throughout development.
3.3. Intellectual development occurs in stages
4. Oral Language Development
4.1. Mastering Phonology.
4.2. Mastering Grammar.
4.3. Mastering Syntax.
4.4. Developing Vocabulary.
5. Expert Reader Competencies
5.1. Word Identification.
5.2. Meaning Clues.
5.3. Story Schemata.
5.4. Motivation.
5.5. Hypothesizing.
5.6. Comprehension Strategies.
6. Stages in Children's Development of Written Expression
6.1. Writing as Art, or Marks That Tell a Story.
6.2. Scribbling That Represents Real and Specific Meanings to the Child.
6.3. Discovery of Principles That Govern Writing Forms.
6.4. Invention and Reinvention of Written Forms through Discovery, Including Invented Spelling for Letter-Sound Relationships.
6.5. Mastery of Conventional Writing.