Study of some cosmological parameters through the CMB power spectrum
by Mariachiara Celato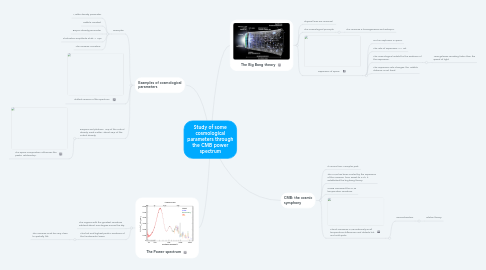 1. The Big Bang theory
1.1. Physical laws are universal.
1.2. The cosmological principle.
1.2.1. The universe is homogeneous and isotropic.
1.3. Expansion of space.
1.3.1. Not an explosion in space.
1.3.2. The rate of expansion: v = Hd.
1.3.3. The cosmological redshift is the evidence of the expansion.
1.3.3.1. 1000 galaxies receding faster than the speed of light.
1.3.4. The expansion rate changes: the Hubble distance is not fixed.
2. CMB: the cosmic symphony
2.1. It comes from a simpler past.
2.2. The CMB has been cooled by the expansion of the universe: from 3000k to 2.7k. It established the big bang theory.
2.3. COBE measured the CMB temperature variations.
2.4. Planck measures CMB extremely small temperature differences and detects hot and cold spots.
2.4.1. Recombination.
2.4.1.1. Infaton theory.
3. The Power spectrum
3.1. The regions with the greatest variations subtend about one degree across the sky.
3.2. This first and highest peak is evidence of the fundamental wave.
3.2.1. The universe must be very close to spatially flat.
4. Examples of cosmological parameters
4.1. Examples
4.1.1. Matter density parameter
4.1.2. Hubble constant
4.1.3. Baryon density parameter
4.1.4. Fluctuation amplitude at 8h−1 Mpc
4.1.5. The universe curvature
4.2. Shifted versions of the spectrum.
4.3. Baryons and photons: 10% of the critical density. Dark matter: about 25% of the critical density.
4.3.1. The space composition influences the peaks' relationship.