Information Communication and Technology
by Jero Ander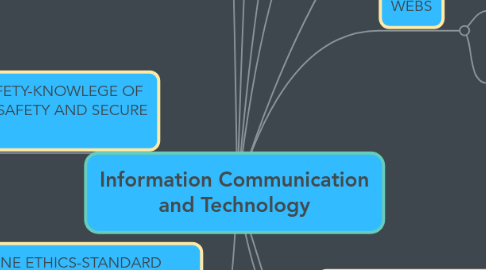 1. INFORMATION
1.1. CONTENT
1.2. KNOWLEDGE
2. COMMUNICATION
2.1. EXCHANGE
2.2. INFORMATION
3. TECHNOLOGY
3.1. APPLICATION
3.2. KNOWLEDGE
3.3. SPECIFIC USE
4. DIVERSE SETS OF TECHNOLOGICAL TOOLS AND RESOURCES THAT IS USED TO COMMUNICATE,DISSEMINATE,STORE AND MANAGE INFORMATION.
5. HISTORY OF PHILIPPINE INTERNET
5.1. 1986-BBS(bulletin board system was created its function is to upload and download software and data.)
5.2. 1989-EMC(first internet in the philippines) UUCP(unix to unix copy protocol)-connection of smooth users of network.
5.3. DECEMBER of 1990-first website was created WWW.CYBERBAYAN.ORG
5.4. 1991-ROBERTO BERSOLAS a net connection through london NGO.
5.5. JUNE of 1993-PHILNET PROJECT WAS ESTABLISHED and in JULY THERE IS NOW A SUCCESFUL FASTER CONNECTION OF INTERNET.
5.6. 1994-at exactly 1:15 AM of MARCH 29,BENJIE TAN SUCCESFULLY CONNECT PHULIPPINES TO SPRINT IN CALIFORNIA
5.7. MARCH OF 1995- Philippine Telecommunication Act or RA 7925 was founded
5.8. 1997-RESEARCH WAS CONDUCTED;85000 ARE USERS OF INTERNET IN THE PHILIPPINES
5.9. 2000-I LOVE YOU vVIRUS WAS ACCIDENTALLY CREATED BY CONNEL DE GUZMAN
5.10. 2012 AUGUST 18-COMES THE LTE TECHNOLOGY AND GIVES PHILIPPINES THE 45 MBPS FASTER CONNECTION SEPTEMBER 12 2012 -THE CYBERCRIME PREVENTION ACT WAS PASS
5.11. 2016-RESEARCH CONDUCTED;44 MILLION USERS OF INTERNET IN THE PHILIPPINES.
6. WEBS
6.1. WEB 3.0-ALSO KNOWN AS SEMANTIC WEB-THE NEXT FUNDAMENTAL CHANGE IN TECHNOLOGY;MACHINE TALKING TO MACHINE..THE IDEA IS THE RISE OF ARTIFICIAL INTELLEGENCE
6.1.1. WEB 2.0-THERE IS A DEVELOPMENT IN TERMS OF CONNECTIVITY,INTERACTION,COLLABORATION.1990 FIRST WEB WAS CREATED BY TIM BERNERS-LEE
6.2. CONVERGENT-NEW TECHNOLOGIES BUT THAT TAKE OVER PAST TECHNOLOGIES BUT PERFORM THE SAME TASK BUT IN ADVANCE MANNER./
7. ONLINE SAFETY-KNOWLEGE OF PERSONAL SAFETY AND SECURE ONLINE
7.1. 10 TIPS OF HAVING SAFETY ONLINE
7.2. 6.PROTECT YOUR PERSONAL INFO
7.2.1. 1.KNOW SCAMS
7.3. 7.WATCH WIFI CONNECTIVITY
7.3.1. 2.THINK BEFORE YOU CLICK
7.4. 8.INSTALL A FIREWALL
7.4.1. 3.SAFETY PERUSE
7.5. 9.KEEP UP TO DATE
7.5.1. 4.KICK BUTT PASSWORD
7.6. 10.USE YOUR NOGGIN
7.6.1. 5.SHOP SAFELY
8. NETIQUETTE:A NETWORK ETIQUTTE THE DO'S AND DON'TS ONLINE...
8.1. 10 RULES OF NETIQUETTE
8.2. GOLDEN RULE
8.3. NO FLAMING
8.4. DONT TYPE IN ALL CAPS
8.5. DONT SPAM
8.6. DONT TALK WITH PEOPLE YOU DONT KNOW
8.7. OBEY COPYRIGHT LAWS
8.8. USE PROPER GRAMMAR AND SPELLING
8.9. BE HONEST/BE YOURSELF
8.10. FOLLOW THE T.O.S
8.11. SHOP SECURE SITES
9. ONLINE ETHICS-STANDARD BEHAVIOURS,MORAL PRINCIPLE THAT DEFINE GOOD FOR INDIVIDUAL
10. 4 COMMANDMENTS USING COMPUTER
10.1. DO NOT HARM OTHER PEOPLE USING COMPUTER
10.2. DO NOT ACCESS PRIVATE FILES
10.3. YOU SHALL NOT STEAL
10.4. DO NOT USE IT TO BEAR FALSE WITNESS