Predictive Learning Analytics
by Sophia Cunningham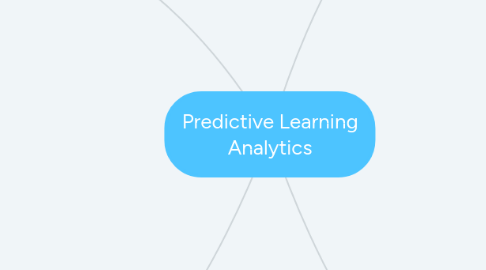 1. Various Data Sets / Where they can be obtained
1.1. Student & Faculty
1.1.1. are often direct consumers for learning analytics usually through dashboards that support the development of self-regulated learning and insights into one's learning.
1.1.1.1. Example: Learning dashboards can use a traffic light system that can warn students when they are at risk in a course (red light)
1.2. Advisors
1.2.1. Institutions often notify student advisors to take actions based on the results on predictive analytics.
1.2.1.1. Example: The University of North Dakota is using analytics to drive policy and to guide operations. For instance, the college noticed there was an increase of withdrawals from a class in order to change that culture it is now required for students to meet with an advisor so they can make it aware to the student the tutoring that is available before they decided to drop a course.
1.3. Adminstration
1.3.1. Majority of the time predictive analytics can be used for enrollment but over time it has no focused on success, completion and operations
1.3.1.1. Example: Forecast the number of courses meet a students demand
1.3.1.2. In addition, some colleges are using predictive learning analytics to implement "guided pathways" to hope students will follow and improve in completing college.
2. Predictive Modeling or other data analysis method
2.1. Activity Data
2.1.1. Normally, activity data comes from LMS which collects learner interactions with content, assessments, SME's and peers.
2.1.1.1. Heat Maps of Course Activity to show the instructors patterns of their students study activities.
2.1.2. Digital Content to provide insight into a students time on task, completion of course activities, and when the student is struggling with course activities.
2.1.3. Personal Response Clickers to capture attendance and track other class responses at in person lectures
2.1.4. Video- Steaming Servers which demonstrates student interactions with videos (when a student fast forwards, rewinds or etc)
2.1.5. Web Conferencing such as participating in virtual lectures, archived sessions and other online activities.
2.2. Achievement Data
2.2.1. The LMS also provides a rich set on an electronic grade book data.
2.2.2. For example, understanding how the student does on a particular quiz but also understanding how that weighs towards their other grades.
2.3. Static Data
2.3.1. Predict how students will perform towards their academic goals and also the student aptitude and demographic data of a high school GPA or academic standing.
2.3.2. Survey Data- surveys can provide insights to students aptitudes, perceptions and fears.
2.3.3. Extracurricular Activities- data from clubs, sports teams, greek life can help determine the levels of engagement at a college to predict things such as graduation.
3. Interventions
3.1. Leadership
3.1.1. having a senior level champion who can help remove organizational barriers and build bridges to various stakeholders and their data
3.2. Culture and Behavior
3.2.1. providing and additional resources to educate users on local practices to help clarity the impact the analytics will have
3.3. Technology
3.3.1. Capacity to store or access disparate data sources in raw or transformed form
3.3.2. Capacity to store or access predictive analytics resultsCapacity to deploy and measure the effects of learning interventions
3.3.3.  Capacity to integrate numerous predictive analytics tools
3.3.4.  Computing power for regular big data analyses, simulations, visualizations, and processes
3.3.5.  Security protocols in place that ensure the learning analytics effort is not a liability
3.4. Policies and Compliance
3.4.1. as predictive learning analytics it is expected that additional may be necessary for federal and state laws.
3.5. Predictive Learning Analytics Skills
3.5.1. data science, programming, data literacy, research, intervention and instructional design
4. Impact on Learners
4.1. Revolutionnize on education
4.2. Address most urgent student success and challenges the colleges are facing with.