MS NICKY'S BRAND MAP July 2018
by Nicky Johnson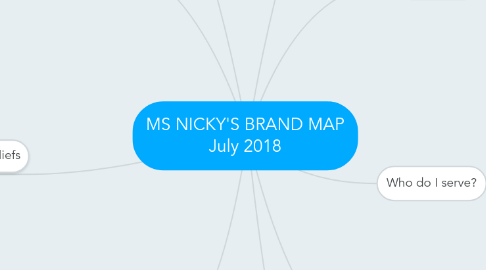 1. How Can I help?
1.1. Help the client create a plan of action and hold them accountable
1.2. Educate on making conscious decisions in nutrition, life choices, and fiscal choices.
1.3. Teach the steps to learn who they are, acceptance of where they are, and how to make the choices to get to where they want to go.
1.4. Deep dive into getting to root cause of issue
1.5. Create a user-friendly, visually appealing, simple, but comprehensive experience online program
2. Unique Spin
2.1. I've worked with celebrities as well as common folk in other capacities so I know how to deal with both types of clientele
2.2. I incorporate methods that may not seem familiar when it comes to becoming physically and fiscally fit. For example, meditation can be used to manifest wealth and healing into life.
2.3. My services includes the full circle package of dealing with the facets of the mental, physical, and spiritual components that cause us to succeed or fail in life.
2.4. I can bring the humor and experience to the table
3. Who do I serve?
3.1. Someone in their late 30's to late 40's that have just realized "oh shit, what have I been doing all my life?"
3.2. People that have been on autopilot and let life slip away from them
3.3. Who want solution-driven recommendations and a guided path to all around wellness
3.4. People who know they need change and are ready to take the steps to do it
4. Why I care?
4.1. I've been through many of the same experience as my clients and know how it feels. I desire to help others get over the same humps without the same hoops.
4.2. I love when people see results from what I've taught them.
4.3. I see so many people missing out on life and taking their own by not being able to tap into the inner joy and find acceptance in who they are.
5. Who I LOVE working with (Or would love to work with)
5.1. I love working with people who genuinely want help with their health struggles.
5.2. Who are willing to learn and do the work
5.3. And who are willing to accept and take responsibility for they are and where they are going.
5.4. People that don't have excuses.
6. Strengths
6.1. Compassionate
6.2. Authentic
6.3. Optimistic
6.4. Love Educating myself
6.5. Tech, health & wellness, and business savvy
6.6. Have a crap ton of ideas
7. Weaknesses
7.1. Time management; procrastination
7.2. Unorganized
7.3. Life/work imbalance
7.4. Super hard on myself and to worried about being perfect
7.5. Bite off more than I can chew/Idea overload - want to do everything now, which is impossible.
7.6. Sometimes trying to implement too many ideas at once
8. Values/Beliefs
8.1. God comes first
8.2. Pay it forward
8.3. Happiness comes from within and not any person place or thing
8.4. I believe you can do anything you put your mind time and effort in.
8.5. This is Where I am, accept it and move forward
8.6. Without health, there's no life
9. Personality/Things I like
9.1. My smile goes a long way
9.2. I love laughing, singing, acting, my family, and trying new things
9.3. Travel, travel, travel
9.4. Learning - nutrition, business, marketing, wellness hacks, mental stability and control, and about living
9.5. Inspirational 'live by's',