All in a Day: Web 2.0 Tools to Help You Through the Day!
by Gretchen Hill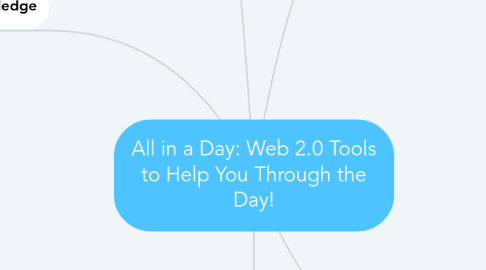 1. Instruction
1.1. Screencast-O-Matic: A relatively simple to use method of recording your screen to explain/share information and videos. It's a great fit for flipped classrooms and for students to review information from a lecture or a process outside the classroom.
1.2. TED-Ed: A library of videos which can be used and implemented to create custom lessons for your students. The videos can be paired with questions, prompts, and other resources to provide instruction to your students.
1.3. Prezi: An online presentation site which allows for more engaging presentations of information when compared to traditional PowerPoint or Slide presentations. Educators can choose from a variety of templates, incorporate material appropriate to a lesson, and track who has viewed a Prezi.
1.4. Khan Academy: A free online site which provides lessons in a wide variety of content areas. Teachers can personalize learning using standards-aligned lessons in order to provide differentiated instruction and enrichment and track student progress.
1.5. Evernote: This tool provides an online storage space to save and share assignments, pictures, lectures, videos, or other instructional pieces which may facilitate learning. Evernote can be accessed anywhere which makes it easier on students, parents, and educators to access information and work.
2. Communication
2.1. Remind: A private messaging app which allows for communication with students, parents, and administrators who sign-up to receive texts on their device. The messages are sent from a computer or mobile device, but do not send your personal cell phone number.
2.2. ClassDojo: Provides educators with a method for creating a classroom community combining shared pictures and videos, feedback, and digital portfolios of student work.
2.3. Blogger: A free blogging site which provides a means for educators to personalize and share more in-depth posts, artifacts, and information about the classroom environment and community.
3. Research
3.1. Google: This search engine provides an easy way to research information about any imaginable topic. Students can find information, images, or video to support their learning. For those who want a more academic approach Google Scholar helps students find scholarly literature across a wide array of content areas.
3.2. Twitter: Twitter combines both a search option for students to investigate topics and current events as well as a method to share research through the use of hashtags. This can facilitate collaboration within the classroom community as well as with the global community.
3.3. TED Talks: TED Talks organize videos containing "ideas worth spreading." The ever-expanding library contains videos from professionals and industry leaders, and is searchable by topic to facilitate student learning.
3.4. YouTube: Students can use YouTube as a means to both research topics and share their research through videos. The site is easy to use, familiar to the vast majority of students, and engaging for our learners.
3.5. Wikipedia: Wikipedia is an online encyclopedia with which the majority of students are already familiar. The content is dynamic in that it is constantly updated and expanded, and provides free access to comprehensive content, including outside links for further research.
4. Demonstration of Knowledge
4.1. Animoto: Animoto is a cloud-based video creation service which allows students to demonstrate their knowledge by combining pictures and video clips with music in order to share information gained through the learning process.
4.2. Google Tour Builder: Tour Builder is an app which allows students to pick locations from a map, then add photos, text, or video to build information and share experiences. Even though it was intended as a means to share information about trips, it is a great educational tool which allows students to demonstrate knowledge gained about a particular place.
4.3. Padlet: Padlet provides an excellent space for students to gather ideas they have researched, share information they have learned, and collaborate with others in their class to extend their learning. Padlet can be used in a variety of ways to demonstrate knowledge, including bellringers, collaborative note-taking, presentations, or interactive story-telling.
4.4. Google Docs: Google Docs is available to anyone with a gmail account. They are an online word processing tool which allows students to create, edit, and collaborate on documents anywhere. The information is saved automatically in Google Drive, which means students have the opportunity for continuity of work without the need to pack a device of jump drive around.
4.5. Mindmeister: Mindmeister is a free site which allows students to create mind maps to organize and share information.
5. Student Assessment/Evaluation
5.1. Rubistar: This site allows educators to create rubrics to use when scoring student projects. Educators can choose from templates or customize their rubric in the site.
5.2. Kahoot: Kahoot allows educators to create and share games and trivia in order to review material and check for understanding.
5.3. Google Forms: Google Forms allows educators to create quizzes or surveys which can gather and track data in a variety of formats in order to measure mastery and progress.
5.4. Socrative: Socrative uses devices to gather feedback in a variety of question formats. The information is gathered and can be tracked based on student responses.
5.5. Formative: Formative is a great site which allows educators to either use pre-made formative assessments or create their own. The free version allows for the creation of unlimited assignments/assessments, lets teachers track answers and differentiate instruction in live time, and both return scores and give feedback.