Organization for Literacy in Lambton
by Dawn Babbey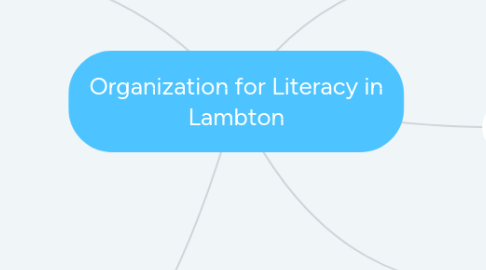 1. Vision and Goals
1.1. Mission Statement: "To ensure that all individuals in Lambton County have the opportunity and resources to improve their literacy."
2. Programs and Services Offered
2.1. Children's Programs
2.1.1. Skill and Drill
2.1.1.1. Free Math and Reading help
2.2. Adult Program
2.2.1. Free Skills Upgrading
2.2.1.1. Small Groups/ One on one tutoring
2.2.1.1.1. Computer skills, Math, Reading, Writing, Spelling
3. How to Access Programs and Services
3.1. Children's Programs
3.1.1. Sarnia Locations: Dow Centre for Youth Lochiel Kiwanis Community Centre Sarnia Evangelical Missionary Church Sarnia Public Library
3.1.2. Lambton County Locations: Brigden Public Library Brooke Alvinston Inwood Community Centre St. Andrew's Presbyterian Church Watford Public Library Wyoming Public Library
3.2. Contact Information
3.2.1. 180 College Ave. North - Rm. 103 Lochiel Kiwanis Community Centre Sarnia, On. N7T 7X2 (519) 332-4876 [email protected]
4. Giving Back
4.1. Volunteer
4.2. Donate
4.3. Give-a-book/ Take-a-book
5. Equity, Inclusion, and Awareness of Cultural Diversity
5.1. Fundraisers and Literacy Initiatives
5.1.1. Showcase Literacy
5.1.2. Sarnia Annual Spelling Bee
5.1.3. Give-a-book Christmas Campaign
5.2. Events
5.2.1. Junior Fun Literacy Camps
5.2.2. Heritage Picnic
5.3. Race to Erase
5.4. OLL collaborates with a number of agencies and organizations in Lambton County.
5.4.1. Big Brothers Big Sisters Boys and Girls Club of Sarnia Lambton Coles Lambton Mall Dow Centre for Youth Huron House Boys Home Lambton College- Academic Upgrading Program Lambton Mental Wellness Centre Lambton Kent District School Board Native Literacy Program- Aamjiwnaang New Beginnings ABI and Stroke Recovery Noelle's Gift Pathways Health Centre for Children
5.5. Member of the Social Services Network of Sarnia Lambton
5.5.1. YMCA Celebration of Youth Award
5.5.2. -Empowering Services for the Elderly -Counselling Services for Families in Distress -After-School Programs for Youth