PURPOSE, MISSION, VISION, AND VALIES (PMVV)
by Venn Dingal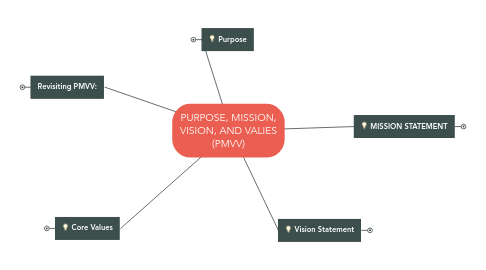 1. Purpose
1.1. To provide Great Times and Great Memories
1.1.1. PURPOSE – we agreed as stated is still compelling and we stand by it, change we did was from good to great last year Leading – is #1 in ADS Preferred – Top of Mind Pizza full service, casual, all #1 in all full service
2. Vision Statement
2.1. To be the PREFERRED and DOMINANT FAMILY CASUAL DINING RESTAURANT in the Philippines and OVERSEAS serving PIZZA as its core product
2.1.1. Area that we have dominance is Pizza Full Service but Dominant family casual we are not yet there, we are only 28% and the next player Pizza Hut is 13% The Shakeys family is a group who wants to achieve greater things. First time we entered the ME market. We propose to keep the identity of shakey's as a brand. Why overseas? – there might be an opportunity to buy the US, Japan and Malaysia Shakey's brand - SPAVI as a future holding group
2.1.1.1. SPAVI as a group will have its own Vision, Shakeys Philippines and Shakey's International will have a joint vision
2.1.1.2. From Leading to Dominant (major market share, far/strong No. 1 and not vulnerable).
2.1.1.3. Dominance in the Philippine Family Casual Dining Restaurant cannot be compromised given that it is the engine of growth of the entire SPAVI group
2.1.1.4. Successful presence in the AMO Family Casual Dining Restaurant
2.1.1.5. Shakey's will be the best in terms of Pizza.
2.1.1.6. Our direct competitors are the Family Casual Dining Restaurants, Secondary/Indirect are the Pizza Restaurants including QSR-Pizza.
2.1.1.7. Consistently ensuring total wowing guest experience to be of the new mission (to be improved)
3. MISSION STATEMENT
3.1. TO OUR EMPLOYEES: We nurture an environment where people are respected and empowered to be their best. We create opportunities for personal and career growth so they may succeed and gain a sense of achievement and pride.
3.1.1. Proposed changes to add:
3.1.1.1. We nurture a great working environment where people are respected, supported and empowered to be their best. We create opportunities for personal and career growth so they may succeed and gain a sense of achievement and pride.
3.2. TO OUR SHAREHOLDERS: We grow the business by increasing the size and value of the company and by achieving industry-leading returns on investment.
3.3. TO OUR BUSINESS PARTNERS: We are a fair, professional and collaborative business partner.
3.4. TO OUR COMMUNITY: We recognize our responsibility to contribute to nation building through job creation and by having a positive impact in our communities.
3.5. TO OUR GUESTS: We genuinely care for our guests. We seek to know their needs and wants so we can (provide them high quality food products and services at great value for money)
3.5.1. Proposed changes to add:
3.5.1.1. Consistently ensure providing them total wowing guest experience / ensure providing consistent total wowing experience.
4. Core Values
4.1. Current
4.1.1. Guest Focused
4.1.2. Passion for Exellence
4.1.3. Critical Thinking
4.1.4. Entrepreneurial Spirit
4.1.5. Unquestioned Integrity
4.2. To add or highlight
4.2.1. Respect
4.2.2. Reciprocity
4.2.2.1. equality-CSO help Ops, Ops help CSO
4.2.3. Teamwork
4.2.3.1. We will collaborate with others and contribute both time and talent to achieve a common goal.
4.2.4. Humility
4.2.4.1. Admit mistakes, likes to learn and teachable. Learn by doing, accept criticism.
4.2.5. Family
4.2.5.1. Where you're in Shakey's, you're with Family
4.2.6. Guest Focused
4.2.6.1. Internal (Inverted Triangle) and External
4.2.7. Versatility
4.2.7.1. We are knowledgeable of the other functions/departments and is not limited to our current job scope.
4.2.8. Empathy
4.2.8.1. We can wear different hats and we are open to the ideas and perspective of others.
5. Revisiting PMVV:
5.1. Where are we right now? How far are we from the vision?
5.1.1. It's still a work in progress. Though we have been consistently ranked as the leading brand in the full-service industry, we have yet to post a significant lead over the competition more consistently for us to say that we are indeed a dominant leader. In terms of achieving dominance and preference in the international arena, a lot of work needed to be done, because we are still on the infancy stage.
5.1.2. On Digital Acceleration
5.1.2.1. We are in the process of rebuilding our New Online Ordering system. While the new design has been launched, there is still much to improve in terms of web loading performance and online ordering user experience. The NOO target launch is on Oct 1, but this will be a work in progress with features to be rolled out in stages after Oct 1 due to the complexity of our requirements. Optimistically, we hope to have NOO for both web and mobile app in place by 1st half of 2019.
5.1.2.2. For Loyalty, it took us awhile to hire a loyalty marketing manager and review the program. However, we have implemented WMY programs throughout 2018 to help augment target sales and TCs.
5.1.2.3. For Digital Marketing, we are in the process of strengthening our social media presence and guest-centricity through more aggressive digital marketing initiatives that started at the beginning of this year together with the launch of our omni-channel guest experience enhancements through Project Hero by Q4 2018.
5.1.3. As per the Euromonitor report, we are the leading in the full service restaurant category as of 2017; market share is up
5.1.4. International opened one successful franchise – - Dubai.
5.2. What key goals were not achieved? What priorities changed?
5.2.1. The full revamp of the SuperCard program may not happen within the year due to the unanticipated workload from the Website and OO revamp, but at least, the loyalty program revamp strategy should be approved within Q4 2018, together with closer coordination of LSM programs with Product and BU Marketing to maximize the SuperCard base.
5.2.2. Some BD goals are delayed
5.2.3. Dine In TC is declining
5.2.4. QSCH is showing declines in SH and PQ
5.2.5. Priorities shifted to cost reduction , bottom-line
5.2.6. Priorities shifted to cost reduction , bottom-line improvement