The A.D.D.I.E. Model for Instruction Design
by Jennifer Campbell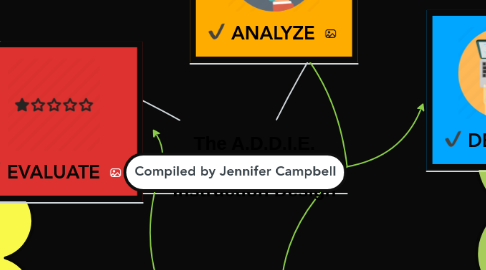 1. Use "KIRKPATRICK's 4-Level Model of Evaluation" to evaluate the learning experience.
2. What are the experiences of the learners?
3. SUMMATIVE ASSESSMENT
3.1. LEVEL 1: Did the participants react positively to the learning experience?
3.2. LEVEL 2: Did the participants learn the required skills?
3.3. LEVEL 3: Did the participants' behavior change as a result of the learning experience?
3.4. LEVEL 4: Did the change in behavior have a positive impact on the organization as a whole?
4. ANALYZE
5. DEVELOP
6. DESIGN
7. IMPLEMENT
8. EVALUATE
9. INSTRUCTIONAL GOALS
9.1. What is the purpose of learning?
9.2. What are the goals for the learning experience?
10. INSTRUCTION ANALYSIS
10.1. What are all the necessary "steps" needed for the learner to achieve the instructional goal(s)?
10.2. What resources are required and available?
11. LEARNER ANALYSIS
11.1. Who will be learning?
11.2. What does the learner already know about the topic?
12. LEARNER OBJECTIVES
12.1. What are the desired outcomes of a successful learning experience?
12.2. What should learners be able to do by the end of the learning experience?
13. FORMATIVE ASSESSMENT
13.1. Use prior to implementation of the learning experience as a way of "testing out" whether the resources fulfill the objectives of the course.
14. DEVELOP ASSESSMENT(s)
14.1. What are the objectives of each session/unit?
14.2. What skills or outcomes will learners achieve for each objective?
14.3. How will learners demonstrate their understanding of the material?
14.4. What assessment tools are available to best capture learning?
15. CHOOSE LEARNING FORMAT
15.1. How will the content and activities be sequenced, presented and reinforced?
15.2. How much time will be spent on each topic?
15.3. Setting: Traditional classroom setting? Online? Blended?
16. DETERMINE INSTRUCTIONAL STRATEGIES
16.1. What resources are available?
16.2. What methodology is best to help learners achieve the objectives?
17. Compiled by Jennifer Campbell
18. RESOURCES
19. CREATE SAMPLE INSTRUCTION
19.1. Draft materials and activities to be used during the learning experience.
20. DEVELOP COURSE MATERIALS
20.1. What practice should be provided for learners?
20.2. How should the content be organized?
20.3. What activities should be included?
20.4. What media should be used?
21. CONDUCT A RUN-THROUGH
21.1. Test out materials and activities with a few members of the targeted learning experience.
22. PREPARE THE INSTRUCTOR
22.1. Provide supports to the instructor as necessary.
22.2. Train instructors in course materials.
22.3. Create a teaching manual.
23. PREPARE THE LEARNERS
23.1. Be sure the learners have the knowledge, tools, and resources to participate in the learning experience.
24. PREPARE THE LEARNING SPACE
24.1. Make sure the space has the necessary tools and resources for learning.
24.2. Test multimedia equipment.
24.3. Arrange learning environment to match the format of instruction.
25. ADDIE Model. (n.d.). Retrieved from ADDIE Model
26. ADDIE Model: 5 Steps To Build Effective Training Programs. (2018, May 01). Retrieved from https://www.learnupon.com/blog/addie-5-steps/
27. Effective information literacy instruction using the ADDIE model. (n.d.). Retrieved from ADDIE Model - The Office of Digital Learning & Innovation (DLI) - UW Bothell