The visible spectrum
by marcus cowan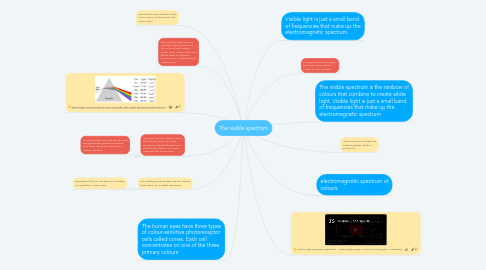 1. Primary colours: Red, green, blue secondary colours: Magenta, cyan, yellow
2. electromagnetic spectrum of colours
3. 8% of males have problems with colour vision and are said to be colour blind
4. Visible light is just a small band of frequencies that make up the electromagnetic spectrum.
5. Isaac Newton discovered in 1666 that light consisted of the colours: Red, orange, green, blue, indigo, violet and yellow when he passed a narrow beam of light through a glass prism
6. The human eyes have three types of colour-sensitive photoreceptor cells called cones. Each cell concentrates on one of the three primary colours
7. When all colours of light are added together, white is produced.
8. Visible Light Spectrum Explained - Wavelength Range / Color Chart Diagram - Chemistry
9. https://qph.fs.quoracdn.net/main-qimg-db17b2128af71fb45376a4f9097da1f9-c
10. When you wear 3D glasses with a red and blue filter, each eye receives a slightly different view of the movie scene. Your brain interprets this as 3D vision.
10.1. This same effect can also be achieved using polarised glasses to transmit only those waves that vibrate in a certain direction.
11. The splitting of white light into the colours that make it up is called dispersion.
11.1. examples of this can be seen as a rainbow or a sprinkler on your lawn
12. The visible spectrum is the rainbow of colours that combine to create white light. Visible light is just a small band of frequencies that make up the electromagnetic spectrum