威廉豪
by Ziji Yu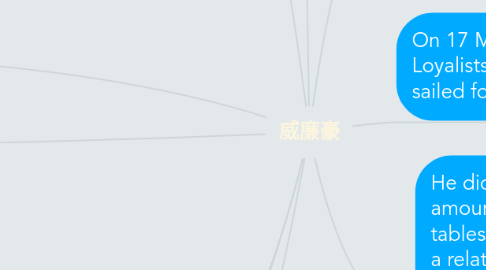 1. 1764 he was promoted to colonel of the 46th (South Devonshire) Regiment of Foot
1.1. in 1768 he was appointed lieutenant governor of the Isle of Wight.
2. He commanded the regiment at the Siege of Louisbourg in 1758, leading an amphibious landing under heavy enemy fire
3. loyalist
3.1. a British Army officer
3.1.1. Commander-in-Chief of British forces during the American War of Independence
4. Having joined the army in 1746
4.1. He became known for his role in the capture of Quebec in 1759
4.1.1. when he led a British force to capture the cliffs at Anse-au-Foulon, allowing James Wolfe to land his army and engage the French in the Battle of the Plains of Abraham
4.2. Belle Île and Havana
4.3. he campaigns to take Louisbourg,
5. Howe was sent to North America in March 1775
5.1. leading British troops to a costly victory in the Battle of Bunker Hill
5.1.1. Howe took command of all British forces in America from Thomas Gage in September
5.2. joined the newly formed 58th (Rutlandshire) Regiment of Foot
6. In 1758, Howe was elected a member of parliament for Nottingham
7. He did, however, spend a fair amount of time at the gambling tables, and allegedly established a relationship with Elizabeth Lloyd Loring
8. On 17 March, British troops and Loyalists evacuated the city, and sailed for Halifax, Nova Scotia.
8.1. The siege was broken in March 1776 when Continental Army Colonel Henry Knox brought heavy artillery from Fort Ticonderoga to Boston during the winter, and General Washington used them to fortify Dorchester Heights, overlooking Boston and its harbour.
9. Howe expected to renew his pursuit of Washington's main force in 1777, while General John Burgoyne would invade New York from Canada.
9.1. July, 1777,Howe failed to destroy Washington's army in Pennsylvania, but he seized Philadelphia in September--only to find that, as Franklin quipped, "Philadelphia ha[d] captured Howe."
10. Revolution