7 Functions of Converse
by Joanna Findura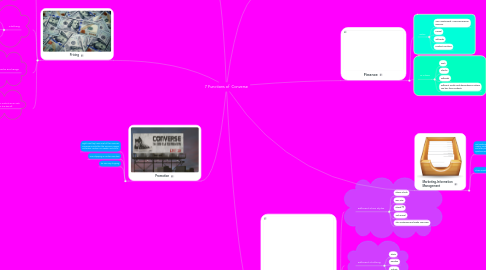 1. Distribution
1.1. -Sold at many stores
1.2. -Shipped to your house
1.3. -Offer different shipping options
1.4. Ship world wide
2. Finance
2.1. Online
2.1.1. Visa, MasterCard, American Express, Discover
2.1.2. Paypal
2.1.3. Giftcards
2.1.4. Product Vouchers
2.2. In Store
2.2.1. Cash
2.2.2. Checks
2.2.3. Giftcards
2.2.4. Different credit cards depending on where you buy their products
3. Selling
3.1. Sell at Their Own Stores
3.2. Online
3.3. Sell at Other Shoe Stores
4. Pricing
4.1. Shoes range from different prices
4.1.1. Low Tops $55-$135
4.1.2. High Tops $65-$150
4.1.3. Slip Ons $50-$75
4.1.4. Platforms $50-$75
4.2. Clothing
4.2.1. Shirts $25-$45
4.2.2. Jackets $70-$125
4.2.3. Hoodies $55-$100
4.3. Backpacks and Bags
4.3.1. Backpacks $40-$65
4.3.2. Bags $40-$85
4.4. Some of Their Products are on Sale Ranging From $10-$35 Off.
5. Promotion
5.1. Right now they have most of their summer converse on sale like, the Summer League Collection, Ombre, Pro Seude, and Floral
5.2. Free Shipping on Orders over $50
5.3. $5 Two Day Shipping
6. Marketing-Information Management
6.1. Get customer satisfaction though social media, Facebook, Instagram, and twitter, and after placing an order you can fill out a questionnaire.
6.2. Three Questions I would ask
6.2.1. Do you think we should add more styles of shoes? If so what kind?
6.2.2. Do you think there should be improvements to the customize option?
6.2.3. Would you purchase a customized hoodie or t shirt from Converse?
7. Product/Service Management
7.1. Different Shoe Styles
7.1.1. Classic Chcuh
7.1.2. One Star
7.1.3. Chuck 70
7.1.4. Jack Purcel
7.1.5. Also Customize and Make Your Own
7.2. Different Clothing
7.2.1. Shirts
7.2.2. Hoodies
7.2.3. Jackets
7.3. Backpacks and Bags
7.4. A New Style of Converse Called Comme des Garçon was Added to Their Collection.