7 Functions of Marketing for Dunkin' Donuts
by Marissa McNeal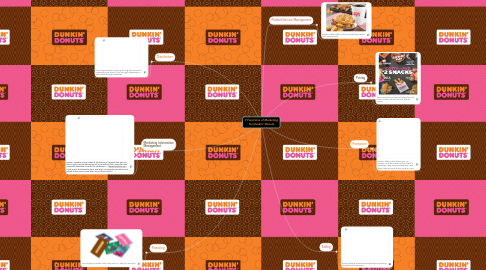 1. Pricing
1.1. There are half price deals at happy hour for all iced coffee, 95 cent donuts, and $2 snacks.
2. Product/Service Management
2.1. Dunkin' offers coffee, donuts, sandwiches, wraps, and many snacks
3. Distribution
3.1. You can get Dunkin' by going through the drive-thru, Ordering in the store, or you can get it delivered to your house through DoorDash
4. Promotion
4.1. Dunkin' offers a deal where you can choose a 2 dollar snack and pair it with a beverage. They are promoting their new donut fries and peel to win cards on cups.
5. Marketing Information Management
5.1. Dunkin' provides survey codes at the bottom of receipts that you can take to get a certain percentage off or something free. They also have a website dedicated to customer satisfaction. At www.telldunkin.com What is your least favorite drink, and why? What would you want to be added to the menu? How often do you buy Dunkin'?
6. Selling
6.1. Dunkin' sells its products through stores and online to places with DoorDash.
7. Financing
7.1. You can pay for Dunkin' with card, cash, or with your DD card.