7 functions of Disney World
by Garrett Golob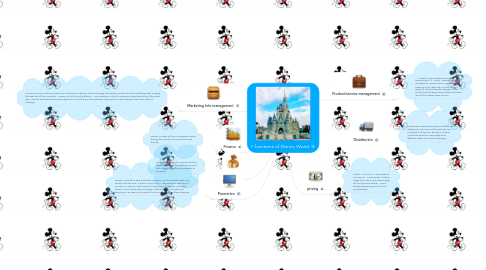 1. Product/service management
1.1. 1: Tickets to gain entrance into park. 2: merchandise. 3: Food. Disney World has managed to improve their merchandise by keeping up to date with current things going on and making the designs on the clothes look all ages where before it looked like all the clothes were for kids.
2. Distribution
2.1. Customers receive their products either by shipping or if you are at the park you can purchase it all right on the spot. Disney World distributes in many ways from different states and online shopping.
3. Marketing Info management
3.1. One way Disney World can data from customers is doing a poll and seeing the results and the second is checking what is doing the best out of their products. Disney World is on all platforms. One question is did the customer enjoy there stay at the park? also, Was the food worth what you payed for it? and do you think Disney is going in the right direction with their style of clothing?
4. Finance
4.1. Disney Accepts all forms of payment when buying their product it is card and cash friendly.
5. Selling
5.1. Disney World sells its products at their stores located all around the world and their online store that is accessible to everyone.
6. pricing
6.1. Tickets: $132 for a 1 day ticket for one person. Merchandise: clothes range from $60 to $25 depending on the style and design. Food: Ranges depending on the food you purchase.
7. Promotion
7.1. Disney World has a sale promotion going on for their tickets right now which is for the next 12 hours, if you buy a 1 day pass you save 56% if you buy a 2 day you save 49% and if you buy a 3 day you save 35%. Disney World online store is having a fall sale going on right now where you can save up to 60% off and an extra 25% and free shipping.