Control Program In a Hospital by Luis Alberto Diaz Perez
by luis diaz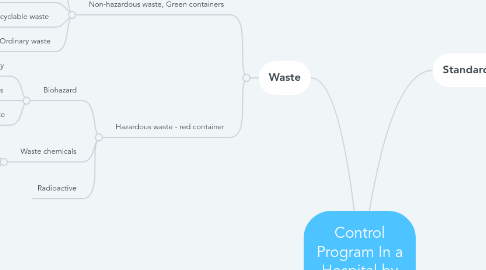 1. CLEANING INSTRUMENTS AND EQUIPMENT
2. DISINFECTION
3. ENVIRONMENTAL DISINFECTION
4. STERILIZATION
5. RULES OF UTILIZATION AND CONSERVATION OF ANTISEPTICS.
6. METHODS OF STERILIZATION
7. Waste
7.1. Non-hazardous waste, Green containers
7.1.1. Inert waste (styrofoam)
7.1.2. Biodegradable waste
7.1.3. Recyclable waste
7.1.3.1. Container grey
7.1.4. Ordinary waste
7.2. Hazardous waste - red container
7.2.1. Biohazard
7.2.1.1. Waste Biosanitary
7.2.1.2. Waste sharps
7.2.1.2.1. Special container called red guardian
7.2.1.3. Pathological waste
7.2.2. Waste chemicals
7.2.2.1. Drugs
7.2.2.2. Pressurized containers
7.2.3. Radioactive
8. Standard precautions
8.1. Have on hand hygiene has 5 times of the OMS
8.1.1. The shirt sleeve must be collected at the level of the elbow
8.1.2. Keep your hands high above the level of the waist
8.1.3. First hand washing should start with working time should be up to the elbow using soap and water
8.1.4. Keep minimum contact with the key to close it. Use the drying towel
8.2. Use of gloves. The gloves are never a substitute for hand washing. Remember: in surgical procedures, gloves not should reuse
8.2.1. Position closed technical sterile gloves
8.2.2. Position of open technical sterile gloves.
8.3. Use of Facial protection
8.3.1. Use of masks
8.3.1.1. Procedures where blood and body fluids are handled.
8.3.1.2. Where there is the possibility of splashing (aerosols) or expulsion of liquids contaminated with blood.
8.4. Use of bathrobe and leggings in surgical areas
8.5. Puncture prevention
8.5.1. Discard needles and cutting walls puncture-proof containers tools, which should be positioned as closely as possible to the work area
8.5.2. Do not discard elements pointed sharp in garbage bags, boxes or containers that are not resistant to punctures.
8.5.3. Avoid cover, bend or break needles once used.
8.6. Respiratory hygiene and cough label
8.6.1. Respirators high efficiency N95, when it comes to avoid exhaling particles (dust, drops of saliva or virus) with ~0.3 micrometers
9. Cleaning and hygiene