FINANCIAL STATEMENTS, CASH FLOW AND TAXES.
by Trang Bùi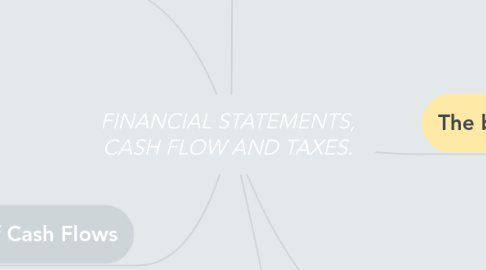 1. The Income Statement
1.1. Deprecciation
1.2. Amortization
1.3. EBITDA
2. Statement Of Cash Flows
2.1. show how things that affect the balance sheet and income statement affect the firm's cash flow.
3. Statement Of Stockholders' Equity
3.1. how much a firm's euity changed during the year
3.2. why this change occurred
4. Financial Statements and Report
4.1. The balance sheet
4.2. The income statement
4.3. The statement of cost flows
4.4. The statement of stockholders' equity
5. The balance sheet
5.1. Current Assets
5.2. Long-term(fixed) Assets
5.3. Total Assets
5.4. Current Liabilities
5.5. Long-term Debt
5.6. Stockholders' equity
5.7. Total Liabilities and Equity
6. Free Cash Flow
6.1. withdrawn from a firm without harming its ability to operate
6.2. to produce future cash flows.