MODAL VERBS
by osnervis nava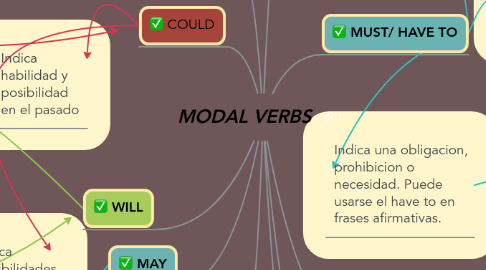 1. SHOULD
2. CAN
3. MAY
4. MIGHT
5. WILL
6. SHALL
7. OUGHT TO
8. MUST/ HAVE TO
9. WOULD
10. COULD
11. Indica habilidad o posibilidad
12. Indica habilidad y posibilidad en el pasado
13. Indica posibilidades en el futuro
14. Tambien se utiliza para dar instrucciones o dar permisos
15. Se usa para indicar posibilidades en el presente y en el futuro, en estos casos es un sinonimo de MAY
16. Se utiliza para formar tiempo futuro
17. Utilizado para formar tiempo futuro su empleo es mas formal.
18. Indica obligacion o recomendacion refleja una opinion sobre lo que es correcto
19. Es sinonimo de should pero de uso menos frecuente.
20. Indica una obligacion, prohibicion o necesidad. Puede usarse el have to en frases afirmativas.
21. Es utilizado para declarar una preferencia o preguntar algo educadamente.
22. Ejemplo: She would like to go to Caracas.
23. Ejemplo: Would you like some coffe?
24. En frases interrogativas el "can" puede solitar permiso o preguntar sobre posibilidades.
25. Ejemplo: Shall we go to the movies or a museum.
26. Tambien es utilizado para ofertas o sugerencias o para preguntar sobre opciones o preferencias.
27. I shall be happy to see you.
28. Tambien se puede usar para indicar prababilidad o asumir algo.
29. Ejemplo: You must [have to] read this book
30. Ejemplo: It must be difficult to learn a new language as an adult.
31. El must tambien se utiliza para formular preguntas retoricas
32. Ejemplo: Must you always be late.
33. Ejemplo: I should call my parents more often.
34. El SHOULD tambien es utilizado en frases interrogativas para preguntar si existe una obligacion o pedir una recomendacion.
35. Ejemplo: Should we leave a tip?
36. Ejemplo: She ought to quit smoking
37. Ejemplo: I can speak five a languages.
38. Ejemplo: Can you help me?
39. Ejemplo: I couldn´t sleep las night
40. Ejemplo: You could pass the test if you studied
41. Could tambien se utiliza para frases interrogativas para solicitar permiso o sobre posibilidades de manera formal.
42. Ejemplo: Could you help me?
43. Ejemplo: I would bring a umbrella, it may rain later.
44. Ejemplo: You may leave if you like.
45. Para frases interrogativas el uso de MAY es una forma mas educada que la utilizacion de "CAN y COULD"
46. Ejemplo: May I have a glass of water?
47. Ejemplo: I would bring a umbrella, it might rain later.
48. Ejemplo: I will help you!
49. Tambien se utiliza "will" en frases interrogativas para pedir información, un favor o sobre opciones.
50. Ejemplo: Will they find a cure for cancer?