This is what we know about the Rosary
by Ann McDonald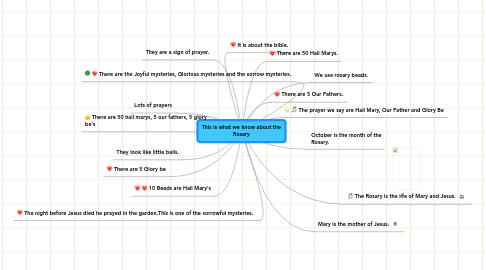 1. There are 5 Glory be
2. There are 50 Hail Marys.
3. They look like little balls.
4. Mary is the mother of Jesus.
5. October is the month of the Rosary.
6. Lots of prayers
7. We use rosary beads.
8. They are a sign of prayer.
9. It is about the bible.
10. 10 Beads are Hail Mary's
11. There are the Joyful mysteries, Glorious mysteries and the sorrow mysteries.
12. There are 5 Our Fathers.
13. The Rosary is the life of Mary and Jesus.
14. There are 50 hail marys, 5 our fathers, 5 glory be's
15. The night before Jesus died he prayed in the garden.This is one of the sorrowful mysteries.
16. The prayer we say are Hail Mary, Our Father and Glory Be