What elements in their secondary experience provided high risk students with the support they needed to succeed post graduation?
by Kirby Scotton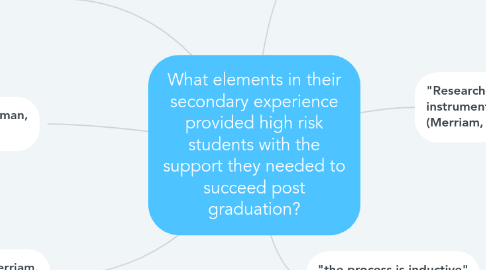 1. "Understand the meaning" (Merriam, 2002, pp. 4).
1.1. "How do people make sense of their experience?" (Merriam, 2002, pp.5).
1.1.1. The entire purpose of this study to to understand what part of these high-risk student's experience ensured their success and what experiences deterred from it.
2. "Researcher is the primary instrument for data collection" (Merriam, 2002, pp.5)
2.1. This is good because it allows for flexibility and quick thinking in the study, but it can cause issues because it can lead to researcher bias.
2.1.1. I will be conducting all of the interviews and over seeing group discussions to ensure the information is not misconstrued or misunderstood.
3. "the process is inductive" (Merriam, 2002, pp.5).
3.1. "researchers gather data to build concepts, hypotheses, or theories rather than deductively deriving postulates or hypotheses" (Merriam, 2002, pp.5).
3.1.1. The interview questions and research question are focused on this that are current that will allow me to construct an original hypothesis.
4. "richly descriptive" (Merriam, 2002, pp. 5).
4.1. Researcher uses images instead of facts and figures to illustrate what they have learned during their research process.
4.1.1. I plan to use many of the participants own words to help illustrate a vivid image of their experiences.
5. "emphasis on process" (Bryman, 2004, pp. 281).
5.1. a need to illustrate how "events and patterns unfold over time" (Bryman, 2004, pp. 281).
5.1.1. I will be focuses on how the specific processes students were exposed to during their secondary education contributed to their success. Participants will be asked to consider events and people during their entire educational experience.
6. "Flexibility and limited structure" (Bryman, 2004, pp. 282).
6.1. Fluid and free flowing structure
6.1.1. My fieldwork will represent flexibility because I am going to have different versions of the interview guide to use. This will allow me to make quick changes during the interview and collection process.
6.2. Open Minded approach allows for flexibility in how the research proceeds