ARTICLES . PUDMED- HISTOEMBRIOLOGY
by Stephannie Martinez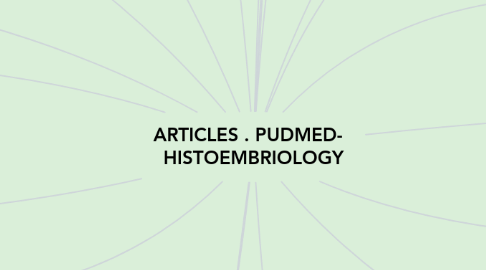 1. Cambios citopatológicos inducidos por el uso de grietas en la mucosa oral.
2. Evaluar alteraciones citológicas, inflamación y carga microbiana del epitelio de la mucosa oral en usuarios de crack en términos de cantidad y duración de uso.
3. Palatal fistula resulting from cocaine abuse: a case report.
4. Cocaine blocks the reuptake of norepinephrine and dopamine of the sympathetic nervous system. It has a psychomotor stimulating effect that provokes euphoria, motor activity and an amplification of a well being sensation similar to the effect of amphetamines.
5. Diagnostic considerations and prosthetic rehabilitation of a cocaine-induced midline destructive lesion: A clinical report.
6. La inhalación intranasal de cocaína tiene numerosas complicaciones. Además de sus efectos sistémicos, la cocaína puede causar una destrucción extensa de las estructuras osteocartilaginosas de la línea media del paladar, la nariz y los senos paranasales.
7. Cocaine-related oronasal communication and hard palate destruction.
8. Four cases of midpalatal perforation in cocaine abusers are presented. Other potential etiological processes are discussed to establish an adequate differential diagnosis.
9. [Agujero de cocaína en el paladar].
10. Necrosis severa del paladar y del tabique nasal como resultado del abuso intranasal de paracetamol.
11. El abuso de drogas intranasales frecuentemente conduce a complicaciones nasosinusales, particularmente necrosis sinusal, nasal y palatal. Clásicamente, este tipo de necrosis se ha relacionado con el consumo de cocaína, pero el abuso intranasal de narcóticos recetados y otros analgésicos también puede provocar daños graves en el tracto nasosinusal. Describimos un caso de necrosis septal palatal y nasal resultante del abuso de acetaminofén intranasal.
12. Perforación palatina inducida por cocaína: informe de un caso.
13. el uso crónico de la cocaína en general el tabique nasal y el paladar. La reparación es un desafío tan difícil de obtener tejido agregado a la mala adherencia de los pacientes al abandono del medicamento.
14. Snorting the clivus away: an extreme case of cocaine-induced midline destructive lesion.
15. La cocaína es un fármaco con implicaciones socioeconómicas y clínicas relevantes, que usualmente se usa recreativamente por sus efectos estimulantes. Se sabe que el hábito de inhalar cocaína se asocia con un tipo peculiar de rinitis crónica inducida por fármacos, que conduce a la inflamación de la mucosa nasosinusal y progresa lentamente hasta la destrucción de los tejidos nasales, palatinos y faríngeos.
16. Nuclear changes in oral mucosa of alcoholics and crack cocaine users.
17. The effects of drugs of abuse on oral mucosa are only partly understood. The aims of the present study were to: (1) evaluate the frequency of nuclear changes in normal-appearing oral mucosa of alcoholics and crack cocaine users and (2) assess their association with cell proliferation rate
18. Cytogenetic biomonitoring of oral mucosa cells of crack cocaine users.
19. The aim of the present study was to comparatively evaluate genomic damage (micronucleus) and cellular death (pyknosis, karyolysis, and karyorrhexis) in exfoliated oral mucosa cells from crack cocaine users by micronucleus test. A total of 30 crack cocaine users and 30 health controls (non-exposed individuals) were included in this setting
20. Ein-44 jähriger Mann mit langjähriger Anamnese eines Kokain-Abusus litt SEIT einem Jahr unter Kopfschmerzen und einem fortschreitenden Frontalhirnsyndrom. Bei der Untersuchung zeigten sich eine Ophthalmoparese, leichte rechtsseitige Pyramidenzeichen und ein Defekt in the Mittellinie des harten Gaumens