Disproportionality in Special Education
by Amanda Smith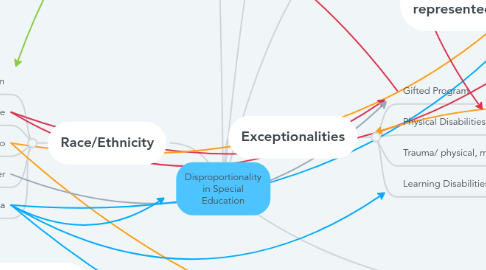 1. Gender
1.1. Female
1.2. Male
2. Race/Ethnicity
2.1. African American
2.2. white
2.3. Hispanic/latino
2.4. Asian/Pacific Islander
2.5. American Indian/Alaska
3. Cultural Diversity
3.1. Religion/Beliefs/Moral/Values
3.1.1. Background/Family History
3.1.2. Traits/characteristics
3.2. Culture Deprivation
3.2.1. Lack of books
3.2.2. Lack of parental involvement
3.2.3. Gender Roles
3.3. Geography/ Other Environments
3.3.1. Public School
3.3.2. Alternative School
3.3.3. Correctional Facility
3.3.4. Residential Facility
3.3.5. Private School
3.3.6. Home School
4. Language/Linguistic Barriers
4.1. Different Languages
4.2. Speech Disabilities
4.3. Communication styles/Urban slang
5. Socio-economic status
5.1. Poverty
5.1.1. Cultural Deprivation
5.1.2. Hygiene
5.2. African Americans are disproportionality represented in SPED.
5.3. Wealthy
6. Exceptionalities
6.1. Gifted Program
6.2. Physical Disabilities
6.3. Trauma/ physical, mental
6.4. Learning Disabilities
7. African American Males are over represented in Special Ed.
8. African American students a more likely to use an urban slang for speech
9. White students are over represented in gifted programs
10. African Americans are over represented in correction facilities
11. Hispanic/Latino students are are over represented in SPED due to language barriers
12. Many Hispanics live in poverty
13. American Indians/Alaska Native are disproportionately represented in SPED.
14. Pacific Islanders are over represented in the gifted programs