Key Elements of a Business Plan
by Angie Skellie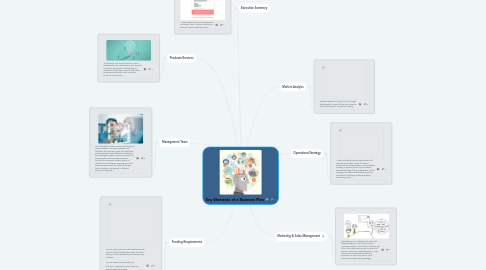 1. Executive Summary
1.1. A brief snapshot of your business plan including: name, location, products or services, mission statement, etc...
2. Products/Services
2.1. The product and services section of your business plan format discusses your product or service, why they're needed by your market, and how they compete with other businesses selling the same or similar products and services.
3. Market Analysis
3.1. Displays research and plan to reach target demographic, as well as the size, direction, and competitors in the overall industry
4. Management Team
4.1. The management team is an essential part of every business. This team analyzes and identifies the business' goals and objectives and implements and enforces the strategies the employees need to achieve success. In a business plan, the management team includes the business' owners, board of directors and managers. Depending on the business plan's style, the details for these team members may appear in different sections of the plan.
5. Operations/Strategy
5.1. A plan specifying how an organization will allocate resources in order to support infrastructure and production. An operations strategy is typically driven by the overall business strategy of the organization, and is designed to maximize the effectiveness of production and support elements while minimizing costs.
6. Funding Requirements
6.1. As part of your plan you will need to provide a set of financial projections which translate what you have said about your business into numbers. You will need to look carefully at: how much capital you need if you are seeking external funding the security you can offer lenders how you plan to repay any borrowings sources of revenue and income You may also want to include your personal finances as part of the plan at this stage.
7. Marketing & Sales Management
7.1. Essentially, your Marketing and Sales Plan describes how you will convey to your customers what's in it for them and then get them to actually purchase your product or service. While your marketing plan is a key document for potential lenders and investors, it's also a key tool in your business's money-making strategy.