Significant Decision: Accepting my first official position part-time in my intended career field, and staying in Austin long-term.
by Kay B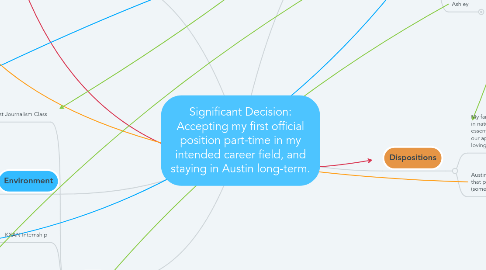 1. Dispositions
1.1. My family is very close knit and supportive in nature. One may consider sacrifice essential in families and relationships, but our approach is compromise, balance, and loving guidance and support.
1.1.1. BEINGS: My Family (Mom, Dad, Sister)
1.2. Austin's media market is usually a place that people work in after two or three (sometimes four) other markets.
1.2.1. STRUCTURES: Media Markets are ranked from 210 to 1, 1 being the biggest and most competitive market to be in. It takes quite some time to get to the top markets, and those in the field will start from the smaller markets.
2. Beings
2.1. My Family
2.1.1. My family is very close-knit, and we consult each other for just about everything. This opportunity stemmed from the internship I had over the summer, an experience that my family supported wholeheartedly (because it would play a pivotal role in kick-starting my career) and would be my first internship or job away from home for the summer. My family lives in the Dallas area, and my mother is headquartered in New York for the time being, so accepting this job and staying in Austin would affect certain dynamics of my family's life.
2.1.2. Mom
2.1.2.1. My mom works in New York right now and regularly visits my father and sister in Dallas. Though me taking the job here in Austin would mean rearranging how her schedule would look with visiting the rest of the family, it was an opportunity cost that she thought to be more than just a part of life and kids growing up, but very much so worth it because of my career goals.
2.1.3. Sister
2.1.3.1. My younger sister and I are incredibly close, and being apart during the school year is at times hard on both of us. Taking this job would mean more time apart, so her input and thought towards my acceptance of the offer was essential. The supportive and loving foundation my finds pertinent led her to the decision that I should go for the opportunity, seeing as we would make the distance work with more visits to each other.
2.1.4. Dad
2.1.4.1. My dad is in Dallas with my sister, and travels at times for work. The dynamics/requirements of his job plus being present with my sister, mom, and I would be a bit different with me not living in Dallas long-term anymore because of my job offer. Taking the impact this transition would have on him was as important as all else considered, and he fully supported the move knowing that it would not be difficult to make the appropriate adjustments and accommodations.
2.2. My mentor, Josh Hinkle
2.2.1. I took Josh's Intro to Broadcast Journalism class during the spring semester of my sophomore year. Based on my performance in the class, he strongly recommended that I apply for an internship at KXAN, the NBC news station that he is an anchor, executive producer, and manager for.
2.2.2. During my time at my internship, Josh received reports and feedback about my work performance at the station. He is one of the hiring managers, so the potential of a job offer for me would partially be up to him. This opportunity is one that he encouraged me to go for, and eventually recommended me for.
2.3. Close friend, Kellie
2.3.1. Kellie and I went to high school together, and she is studying Journalism, as I am, at Loyola New Orleans. She got a job working at the NBC station in her school's city as a sophomore or junior and was in the same situation I found myself in with this decision. I had several conversations with her about her experience and what she (and her family) did to make the transition and new chapter in her life work.
2.3.2. Kellie shared with me her experiences at work as well as insider information about the industry of news. She also gave me an immense amount of advice and key points to remember as I went into my internship over the summer. These things were notes she said would make me a more attractive option and applicant for a job in the future.
2.4. Christopher
2.4.1. Christopher's role is essentially the same as the position offered to me, so when I shadowed him during my internship, I learned many of the tasks and skills that are needed ad useful for the position
2.4.2. Christopher is also the person who told e about the temporary part-time position that would be opening up at the desk. At the point of him telling me about the job, it was only supposed to be temporary while Ashley, an assignment editor and on of the hiring managers, is on maternity leave.
2.4.3. Christopher played my eyes and ears at the station towards the end of my internship, promising to let me know if talk was ensuing surrounding me being considered for the position.
2.4.4. Christopher advised that since Ashley is the one to replaced temporarily and she's one of the hiring managers, I should talk to her about my interest in the position.
2.5. Chad
2.5.1. Chad is the News Director at KXAN- the station for NBC in Austin that offered me a job. Chad is someone that I interacted with the least compared to some of my other supervisors and co-workers. However, he is the main manager and boss of the station, so speaking with him would only be to my benefit (and something interns rarely do.) I scheduled a meeting with him during my last week as an intern, and asked him about his life and journey through his career. I also asked for industry and career advice, including a verbal statement of interest in the soon-to-be vacant position at the desk. Based on the advice he offered me as well as the insider information regarding how most career paths in journalism go, taking the position as it came my way was the smarter decision to make.
2.5.1.1. ENVIRONMENT: The Newsroom feels and operates the way that it does because of the rules and expectations that Chad has set in place. His encouragements are what contribute to the foundation of the work environment.
2.5.2. Chad is someone that NBC (New Channel) knows well and praises well for his work. Having the chance to work for him would be an honor and good learning experience. In addition, showing that I have good work practice and the potential to succeed in the field would result in an impactful weighted word and recommendation from Chad in the future.
2.6. Ashley
2.6.1. Ashley is one of the Assignment Editors of the desk and a Manager at the station (thus, in charge of the desk and one of the hiring managers.)
2.6.2. Ashley is pregnant and close to her due date, so she will soon be on maternity leave, thus leaving a seat/shift open at the desk that needs to be covered.
2.6.3. I spoke with Ashley before the end of my internship, expressing interest in any positions that open up- specifically, the seat at the Assignment Desk that may need to be filled while she is on maternity leave.
2.6.4. Ashley called me five days after my internship had ended offering the job to me. She is the one with whom I discussed my schedule, the hours, the pay, as well as when I would start and what what a real job in this industry would entail. The biggest factor to consider was working holidays here in Austin and being mandated to be at the station.
3. Structures
3.1. The Media Markets
3.1.1. There are 210 media markets in the United States. Number 1, New York, is the highest, and that is where most in the media strive to end up. Typically, those seeking jobs in media will start in lower markets, such as market 112, or market 103, or even 146. Austin is market number 39, a market that most only get to work in after 2 or 3 previous lower markets. This job acceptance would mean that my first job in journalism was in the 39th market at the age of 20. That is a big and unheard of opportunity.
3.1.1.1. DISPOSITIONS: Austin's Media Market. Because of its ranking, most people do not reach or surpass the Austin market (39) until their second or third job in journalism.
4. Environment
4.1. The Station
4.1.1. Newsroom
4.1.1.1. The overall environment of the newsroom changes on a daily basis. In news, as I learned while working with KXAN over the summer, no one day is the same as another in the world of news. Breaking news, slow days, lack of stories, abundance of stories, and other factors can impact the way the newsroom is. This was important for me to remember because my job is essentially preliminary reporting, and I must adjust to whatever the environment is for the news on any given day.
4.1.1.2. Chad, the News Director, puts a lot of stress on the importance team work and togetherness in the newsroom. This promotes an environment where things get done, as well as one that would make me feel comfortable learning a new job and new role for the first time in my budding career.
4.1.2. In the field
4.1.2.1. Seeing firsthand how quickly things move and can change "in the field" (out wherever a reporter or photographer is working on a story) gave insight into how quickly I would need to work at the desk for the reporters and photographers in order to get the story done and told well.
4.1.3. The Staff
4.1.3.1. Over the course of my internship, I got to know many of the reporters, photographers, editors, producers, managers, and other team members throughout the station. Those personal relationships with each individual made for an environment with those people.
4.2. School
4.2.1. The environment of school includes the workload (primarily), my school schedule, and the general stresses that come with daily college life and the pursuit of a higher education.
5. Events
5.1. Intro to Broadcast Journalism Class
5.1.1. I took Josh Hinkle's Broadcast Journalism class during the Spring Semester of my sophomore year. This is where I met him for the first time, submitted my work to him, and eventually asked him to be my mentor. Through seeing my work, he recommended that I apply for an internship at the station for the summer.
5.1.1.1. BEINGS: My mentor, Josh Hinkle. Taking this class introduced me to him and opened up the doors to the opportunities that were to follow.
5.2. KXAN Internship
5.2.1. I did the Newsroom Internship program with KXAN for school credit over the summer. Through this opportunity, I learned first hand how reporting is done- good reporting- and how KXAN operates. I got to meet everyone at the station and learn about the vacant position at the desk that needed to be filled come October.
5.2.1.1. BEINGS: Christopher. Through my internship, I met Christopher, one of the Assignment Desk Editors. He is the one who told me that there would be a vacant position at the desk that I would be a good candidate for and should express interest in.
5.2.2. I worked 5 days a week during the dayside and nightside shifts, which allowed me to meet everyone on every team and develop relationships with each person while learning how the entire news team operated. Through working everyday, they also got to know how I work and what I am capable of. In addition, they saw my passion and that I was putting in what I wanted to get out of my experience. Finally, they knew of my deep and genuine interest in working with the station and working in broadcast journalism.
5.2.2.1. BEINGS: Chad. I got to meet Chad through this experience. Though it was towards the end and brief, getting to meet other people made for more feedback about my performance to be relayed to him.
5.3. Ashley's position needed to be filled
5.3.1. Because Ashley is pregnant and going on maternity leave soon, her position needing to be filled was something that was discussed while I was still interning. Learning about this needed arrangement came to me as an opportunity that I was encouraged to seek and grasp.
5.3.1.1. BEINGS: Ashley. Ashley is a manager, and the lead for the Assignment Desk. She has a significant hand in choosing who gets hired and, in turn, who will fill the vacant position at the desk while she is on maternity leave.
5.4. Matthew P. moves to the Digital Team
5.4.1. Initially, because Ashley would be on maternity leave for a few months, the assignment desk position I was interested in was only for a few months. However, Matthew, another employee at the desk was moved to the digital team. So, after everyone was trickled down into the next position, Ashley offered me a permanent part-time position because that had become vacant, regardless of her maternity leave. This led to me needing to consider a more long-term employment and living situation here in Austin.