INFORMATION AND COMMUNICATION TECHNOLOGIES (ICT)
by Tricia Mae Parinas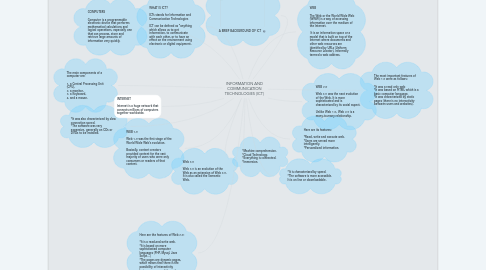 1. WHAT IS ICT? ICTs stands for Information and Communication Technologies ICT can be defined as "anything which allows us to get information, to communicate with each other, or to have an effect on the environment using electronic or digital equipment.
2. A BRIEF BACKGROUND OF ICT
3. COMPUTERS Computer is a programmable electronic device that performs mathematical calculations and logical operations, especially one that can process, store and retrieve large amounts of information very quickly.
4. The main components of a computer are: 1. a Central Processing Unit (CPU), 2. a monitor, 3. a Keyboard, 4. and a mouse.
5. INTERNET Internet is a huge network that connects millions of computers together worldwide.
6. WEB The Web or the World Wide Web (WWW) is a way of accessing information over the medium of the Internet. It is an information space or a model that is built on top of the Internet where documents and other web resources are identified by URLs (Uniform Resource Locator), informally termed a web address.
7. WEB 1.0 Web 1.0 was the first stage of the World Wide Web's evolution. Basically, content creators provided content for the vast majority of users who were only consumers or readers of that content.
8. The most important features of Web 1.0 were as follows: *It was a read only web *It was based on HTML which is a basic computer language. *It was characterized by static pages (there is no interactivity between users and websites).
9. *It was also characterized by slow connection speed. *The software was very expensive, generally on CDs or DVDs to be installed.
10. WEB 2.0 Web 2.0 was the next evolution of the Web. It is more sophisticated and is characterized by its social aspect. Unlike Web 1.0, Web 2.0 is a many-to-many relationship.
11. Here are the features of Web 2.0: *It is a read-and-write web. *It is based on more sophisticated computer languages (PHP, Mysql, Java Script…) *The pages are dynamic pages, which means that there is the possibility of interactivity between users and the web.
12. *It is characterized by speed. *The software is more accessible. It is on line or downloadable.
13. Web 3.0 Web 3.0 is an evolution of the Web as an extension of Web 2.0. It is also called the Semantic Web.
14. Here are its features: *Read, write and execute web. *Users are served more intelligently. *Personalized information.
15. *Machine comprehension. *Cloud Technology. *Everything is connected. *Immersion.