Who is Seth Low?
by
The Media Spot, LLC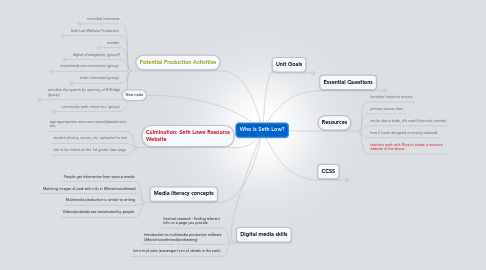 0.0
stars - reviews range from
0
to
5
Culmination: Seth Lowe Resource Website
age-appropriate resources copied/pasted onto site
student photos, voices, etc. uploaded to site
site to be linked on the 1st grade class page
Resources
brooklyn historical society
primary source docs
article about birds, silk road (historical context)
how S Lowe designed a moving sidewalk
teachers work with Rhys to create a resource website of the above
who is seth lowe?
where is brooklyn?
naming things: why are things named what they are?
reflect on the process: archive learning on website and iBook
how to write an interview question
about the neighborhood/community (how do they provide for families)
Potential Production Activities
recorded interviews
Seth Low Website Production
models
digital photography (group?)
voicethread.com summaries (group)
video interviews (group)
simulate the speech by opening of B Bridge (group)
community walk virtual tour (group)
New node