Biology - 2018 - Period 5 - Jessica Johnson - How the Wolves Changed Yellowstone Student Pages
by Jessica Johnson [STUDENT]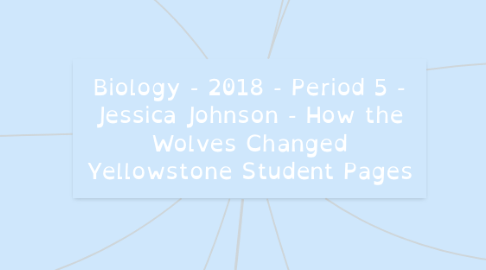 1. Six years after wolves were introduced, in 2002, cottonwoods had matured into meter-tall bushes.
2. After the introduction of wolves, the elk population plummeted to 11,000- 14,000, obtaining a low of 8,000 in 2005. Since that happened, serious adjustments started to arise. For example, willow, aspen, and cottonwood trees began to bloom and blossom.
3. The dwindling aspen, willows, and cottonwoods began to expand in size. More young trees started to emerge, notably beside river beds and other exposed areas.
4. Elk populations soared and parts of the ecosystem, like the Lamar Valley, were virtually denuded of vegetation. Many species, such as songbirds and beavers, faded away as a result.
5. The ponds of water behind the dams help the trees, shrubs, and succulent vegetation, which gave food and shelter for other species, like insects, rodents, warblers, and other songbirds, grow. Beaver ponds also become a new habitat for otters, muskrats, moose, and multiple species of fish.
6. In two years of wolves being released, attacks from wolves caused a 90% decline in coyote prosperity within wolf pack territories.
7. The main prey of coyotes, which are voles, mice, and other rodents, have had a gigantic population change. This is is positive impact on the competitors of the coyote, such as foxes and birds of prey.
8. The survival of pronghorn fawns has increased and pronghorn numbers are starting to grow.
9. Park biologists mentioned an increase in species including magpies, ravens, eagles, and grizzly bears.
10. The number of ravens attracted to a wolf kills demonstrates the beneficial interaction with wolves: the average is 30 individuals, with 135 being the biggest number recorded to date.
11. Some species in the Yellowstone food web afflicted by wolves are elk, cottonwoods, beaver, muskrat, moose, raven, magpie, grizzly, vole, coyote, yellow warbler, and aspen.