The most innovative companies of 2019 According to BCG
by Karen Daniela Zarate Montes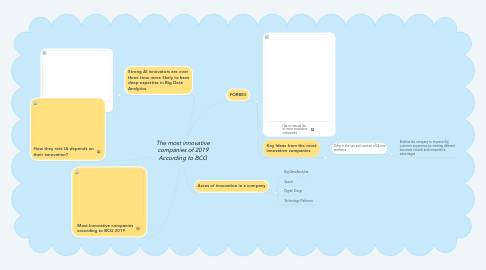 1. FORBES
1.1. Has an annual list of more innovative companies
1.2. Key Ideas from the most innovative companies
1.2.1. Differ in the use and creation of IA and platforms
1.2.1.1. Enables the company to improve the customer experience by creating different bussiness models and competitive adventages
2. Strong AI innovators are over three time more likely to have deep expertise in Big Data Analytics.
2.1. Levels of innovation and product development
3. Areas of innovation in a company
3.1. Big Data Analytics
3.2. Speed
3.3. Digital Disign
3.4. Technology Platforms
4. How they rate IA depends on their innovation?
5. Most Innovative companies according to BCG 2019