Vionna Meijer
by Vionna Meijer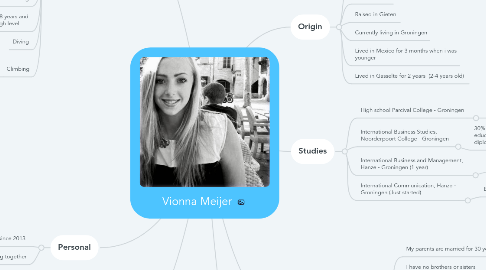 1. Origin
1.1. Dutch
1.2. Born in Assen
1.3. Raised in Gieten
1.4. Currently living in Groningen
1.5. Lived in Mexico for 3 months when i was younger
1.6. Lived in Gasselte for 2 years (2-4 years old)
2. Hobbies
2.1. Photography
2.1.1. Nature
2.1.2. Portret
2.2. Traveling 2016 - 2018
2.2.1. Malta
2.2.2. Vietnam
2.2.3. Dubai
2.2.4. Thailand
2.2.5. Italy
2.2.6. Portugal
2.2.7. Germany
2.2.8. Belgium
2.2.9. UK
2.2.10. Czech Republic
2.3. I love cooking
2.3.1. Italian kitchen
2.3.2. Asian kitchen
2.3.3. Arab kitchen
2.4. Filming + Editing footage
2.4.1. I make aftermovies with the footage of my Go Pro
2.5. Snowboarding
2.5.1. I go on wintersport every year
2.6. I used to had my own horse for 8 years and did a lot of compiticions on a high level
2.6.1. It was to time consuming and that is why i quite
2.7. Diving
2.8. Climbing
2.8.1. Real rocks abroad
2.8.2. Kardinge, Groningen
3. Personal
3.1. I have a boyfriend since 2013
3.2. We are living together
4. Charesteristics
4.1. I am adventurous
4.1.1. I love the unknown factors whenever i am traveling.
4.1.2. This year I dove in open water, 20 meter below the surface - Thailand
4.2. I am direct in the way i speak
4.2.1. I will say what i think, if you ask me to.
4.3. I am creative
4.3.1. I like to edit video's in a certain way and think of the whole video concept before i even go on a holliday.
4.4. Ambitious
4.4.1. I like to aim high because that works better then aiming low. For this project our group agreed to aim for a nine as a grade.
4.5. I am a good planner
4.5.1. I used to be a bad planner but then I decided to change that because it makes your life a lot easier. During projects I always make plannings for the group to see how much things we need to do in the time slot we have.
5. Studies
5.1. High school Parcival College - Groningen
5.1.1. Dutch education
5.2. International Business Studies, Noorderpoort College - Groningen
5.2.1. 30% Dutch education/ 70% English education (Dutch and English diploma)
5.3. International Business and Management, Hanze - Groningen (1 year)
5.3.1. English eduction
5.4. International Communication, Hanze - Groningen (Just started)
5.4.1. English eduction
6. How did i grew up?
6.1. My parents are married for 30 years
6.2. I have no brothers or sisters
6.3. My father used to travel a lot for his work when i was younger
6.3.1. My mother and i used to travel with him, because of all his positive stories i started thinking of following an English course
6.4. My mother got cancer
6.4.1. She got breast cancer when i was 12
6.4.1.1. It had spread to the lymph nodes and there was little chance she would survive
6.4.1.1.1. After heavy treatment she was clean of breast cancer after 3 years
6.4.2. She got 7 operations for skin cancer in the past 9 years
6.5. I have a very good relationship with my parents
6.5.1. I go on a holliday with only my mom
6.5.1.1. This July i went to London
6.5.2. I go on a holliday with only my dad
6.5.2.1. This February i went to Praag
7. Dreams
7.1. If I could do anything i would want to travel the world and create content for luxuries resorts.
7.2. When I was younger i wanted to find a cure to cancer. (I am really bad in mathemetics, that is why i didn't do that.
7.3. During my travels in Asia, i spoke to a lot of girls that married at 13. I want to educate woman in Asia about their rights and hope to one day help