Mortgages
by Kathleen Vinzon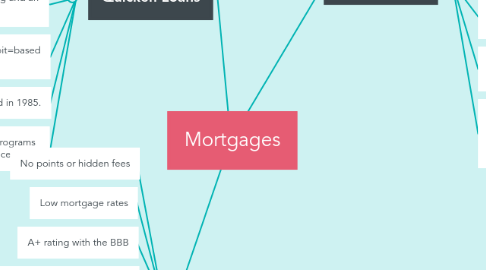 1. Quicken Loans
1.1. Your rate can be locked in with the approval with RateShield for 90 days.
1.2. Quicken Loans is the largest online mortgage lender in the U.S.
1.3. When rates do go down, your rate also drops but never increases.
1.4. They have a 5 start TrustPilot rating and an A+ score with the BBB.
1.5. Quicken Loans is a Detroit=based company.
1.6. It was founded in 1985.
1.7. Their focus is offering mortgage programs that includes purchase and refinance loans.
2. Lending Tree
2.1. They offer a comparison quote within minutes that includes up to 5 lenders.
2.2. That is done free of cost.
2.3. Rates as low as 3.927% APR with the 15 year fixed-rate mortgages.
2.4. They have served a large amount of customers. More than 40 million customers.
2.5. Lending Tree is a little newer company that started in 1996.
2.6. It is an online loan marketplace based out of North Carolina.
2.7. Other programs they offer includes extending tools, educational resources and access to products like credit repair and debt relief,
3. J.G. Wentworth
3.1. No points or hidden fees
3.2. Low mortgage rates
3.3. A+ rating with the BBB
3.4. They offer a wide variety of mortgage programs
3.5. Only compatible with homeworkers with a 620+ credit score.
3.6. Offers mortgage programs that includes jumbo and government-backed loans.
3.7. This is not available in NY, NV or HI.