The Internet is a global network that links computer networks all over the world so that users can share resources and communicate with each other
by zinab ali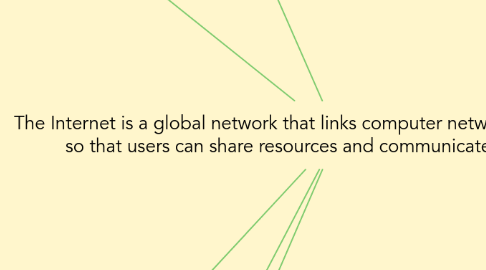 1. Connection could be
1.1. Wired
1.1.1. using telephone lines or cables.
1.2. Wireless
1.2.1. based on communication satellites .
2. Internet Service Providers (ISP):
2.1. companies that provide the user with access to the internet. For example: zain Mobily.......
3. Why people use Internet?
3.1. Information
3.1.1. brows and find some information using search engine
3.1.2. i.e. Google, Yahoo
3.2. Social networking
3.2.1. communicate with friend and family members.
3.2.2. For example, Facebook, twitter, and LinkedIn
3.3. Communication
3.3.1. People connect via each other
3.3.2. Instant Messaging) services like Gtalk, Skype, and Yahoo messenger.
3.3.3. Instant Messaging) services like Gtalk, Skype, and Yahoo messenger.
3.4. Transfer files:
3.4.1. From office to schools, from business person to college students everyone sends files through internet.
3.4.2. Gmail, Yahoo mail, AOL, and Hotmail etc.
3.5. Current buzz:
3.5.1. It's either latest news or Football match score,
3.5.2. , people love to surf internet to get a live update of any news.
3.6. Entertainment
3.6.1. Watching videos in YouTube
3.6.2. playing live games
3.6.3. downloading movies;
3.7. Internet Transactions
3.7.1. Known as internet banking facility
3.7.2. deposit any bill,
3.7.3. transfer money through accounts,
3.7.4. make internet reservations on time from their home.
3.8. Making money:
3.8.1. Designing
3.8.2. Freelancing
3.8.3. consultancies
3.8.4. software providers,
3.8.5. application always help people to work in an easier way.
3.9. Marketing
3.9.1. There are lots of social media enthusiasts who promote other's product online via various social media sites.
3.10. Online education:
3.10.1. Various websites such as the university Blackboard and Free Video Lectures offer online courses to learn various things
3.10.2. designing, programming, engineering, medical, finance and other subjects.
4. Internet keywords:
4.1. Communication Protocol:
4.2. HTTP (HyperText Transfer Protocol):
4.3. Internet Protocol (IP) Address:
4.4. IP addresses and MAC addresses:
4.5. HyperText Mark-up Language (HTML):
4.6. Web Browser:
4.7. The World Wide Web:
4.8. Website
4.9. Home Page
4.10. Link (or hyperlink)
5. URL
5.1. .com
5.1.1. commercial enterprise or busines
5.2. .org
5.2.1. non-profit organization
5.3. .edu
5.3.1. educational institution
5.4. .gov
5.4.1. educational institution
5.5. .mil
5.5.1. military agency
5.6. .net
5.6.1. another ending for a commercial website