"COGNITIVE AND AFFECTIVE INFLUENCES IN LANGUAGE LEARNING"
by robert bracamontes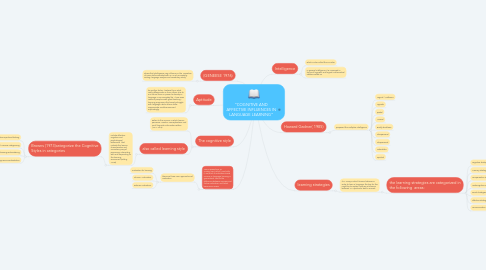 1. Intelligence
1.1. which is also called the G Factor
1.2. in general intellgence it is measured in terms of linguistic and logical mathematical abilities called IQ
2. Howard Gadner( 1985)
2.1. proposed the multiples intelligence
2.1.1. Logical / Mathemic
2.1.2. Liguistic
2.1.3. spatial
2.1.4. Musical
2.1.5. Bodily kinethesic
2.1.6. Interpersonal
2.1.7. Intrapersonal
2.1.8. Naturalistic
2.1.9. Spiritual
3. (GENEESE 1976)
3.1. shows that intelligence may influence in the aquisition of some skills asociated with SLA such as reading, writing, language analysis and vocabulary study
4. Aptitude
4.1. its another factor, I believe this is what really differenciate us from others, due to our natural force or power to develop a language in our everyday life. I have seen cases of people inside great teaching - learning programms that simply struggle with language, while others under inappropiate conditions,succed surprinsingly.
5. The cognitive style
5.1. Refers to the manner in which learner perceives, monitor, conceptualizes, and recall linguistic information.wilkins (1971-1973)
5.2. also called learning style
5.2.1. include affective, cognitive and psychological behaviours that indicate the learner characteristics and consistency way of perceiving, interacting with and responding to the learning enviroment (willing ,1998)
5.2.1.1. Browns (1973)categorize the Cognitive Styles in categories
5.2.1.1.1. Reflective-impulsive thinking
5.2.1.1.2. broad -marrow categorizing
5.2.1.1.3. skeletonizing-embroidering
5.2.1.1.4. Belief congruence-contradiction
6. learning strategies
6.1. It is a way in which learner behaves in order to learn a language, the key for this might be to explain how we as learners behaved in a particular task to succed,
6.1.1. the learning strategies are categorized in the following areas:
6.1.1.1. cognitive strategies
6.1.1.2. Memory strategies
6.1.1.3. compensation strategies
6.1.1.4. metacognitive strategies
6.1.1.5. social strategies
6.1.1.6. affective strategies
6.1.1.7. communication strategies
7. Some researchers as Corder(1981).elliot (1993),Ellis (1995)think if motivation exists success in language learning is guaranteed, can be the difference between success and failure,motivation and talent becomes success
7.1. there are three main approaches of motivation
7.1.1. motivation for learning
7.1.2. intrinsic motivation.
7.1.3. extrinsic motivation.