TRACHEOSTOMY CARE TEACHING TO NURSING STUDENTS
by NICOLE MYATT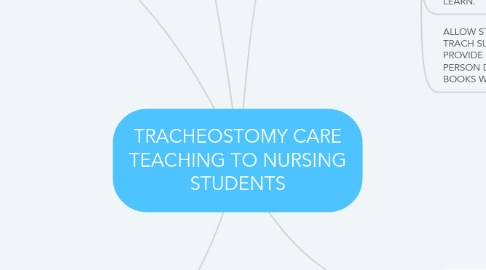 1. ROLE OF EDUCATOR: MAKE ACCOMMODATIONS FOR COGNITIVE AND TIME LIMITATIONS OF ADULT LEARNERS WHILE EXPANDING ON THE LIFE EXPERIENCES OF ADULT STUDENTS.
2. THEORY OF ANDROGOGY
2.1. THEORIST: MALCOM KNOWLES
2.2. VIEW OF KNOWLEDGE: KNOWLEDGE FOR ADULTS MUST BE SELF DIRECTED
2.3. VIEW OF LEARNING: SHOULD BE PRESENTED AS PROBLEM SOLVING, AN EXPERIENTIAL LESSON OF IMMEDIATE VALUE.
2.4. ROLE OF STUDENT: SELF DIRECTED LEARNER, RESPONSIBLE FOR OWN DECISIONS
2.5. ROLE OF EDUCATOR: RESOURCE RATHER THAN LECTURER. PROVIDE OPPORTUNITIES FOR STUDENT TO LEARN.
2.6. ALLOW STUDENTS TO PRACTICE WITH TRACH SUPPLIES IN LAB SETTING. PROVIDE INSTRUCTIONAL VIDEOS, IN PERSON DEMONSTRATIONS AND BOOKS WITH DETAILED INSTRUCTIONS
3. THEORY OF EXPERIMENTAL LEARNING
3.1. THEORIST: CARL ROGERS
3.2. VIEW OF KNOWLEDGE: EITHER COGNITIVE OR EXPERIENTIAL. FURTHER STATES COGNITIVE IS MEANINGLESS MEMORIZATION WHILE EXPERIENTIAL HAS PROFOUND EFFECT ON LEARNER.
3.3. VIEW OF LEARNING: IS AS SIGNIFICANT AS PERSONAL CHANGE AND GROWTH
3.4. ROLE OF STUDENT:I NTIATE QUEST FOR KNOWLEDGE, SEEK OUT LEARNING EXPERIENCES.
3.5. ROLE OF EDUCATOR: MINIMIZE THREAT TO STUDENTS, CLARIFY PURPOSE, ORGANIZE AND MAKE RESOURCES AVAILABLE.
3.6. PROCESS: INFORM STUDENTS ABOUT THE IMPORTANCE OF PATIENTS AIRWAY IN A CLINICAL SETTING, ASSURE THEM THEY WILL NOT BE GRADED, PROVIDE TRACHEOSTOMY SUPPLIES INTHE LAB AND GIVEN THEM TIME TO PRACTICE.
4. ADULT LEARNING THEORY
4.1. THEORIST: K.P. CROSS
4.2. VIEW OF KNOWLEDGE: KNOWLEDGE IS INFLUENCED BY PERSONAL AND SITUATIONAL CHARACTERISTICS.
4.3. VIEW OF LEARNING: ADULT LEARNERS ARE SELF DIRECTED PROBLEM SOLVERS.
4.4. ROLE OF STUDENT: TO INITIATE GAINING KNOWLEDGE.
4.5. PROCESS:PROVIDE AT HOME VIDEOS OF TRACHEOSTOMY CARE TO BE WATCHED ON STUDENTS OWN TIME. REALTE IMPORTANCE OF AIRWAY MAINTENANCE TO THE CARE OF A SICK PARENT OR RELATIVE. ALLOW AMPLE TIME FOR PRACTICE IN THE LAB.
5. THEORY OF TRANSFORMATIVE LEARNING
5.1. VIEW OF KNOWLEDGE: RELATES TO MAKING MEANING. IE "THE CONSTELLATION OF A CONCEPT..... WHICH SHAPES A PARTICULAR INTERPRETATION"
5.2. THEORIST: JACK MEZIROW
5.3. VIEW OF LEARNING: INSTRUMENTAL THROUGH TASK ORIENTED PROBLEM SOLVING, COMMUNICATIVE THROUGH FEELINGS, NEEDS AND DESIRES.
5.4. ROLE OF STUDENT: PARTICIPATE AND REFLECT ON THE PROBLEM SOLVING TASK AND OR FEELING TO ESTABLISH MEANING.
5.5. ROLE OF EDUCATOR:PROVIDE OPPORTUNITIES FOR PROBLEM SOLVING AND REFLECTION THROUGH TASK TO DEFINE CAUSE AND EFFECT.
5.6. PROCESS: IN LAB SETTING USE A SIMULATION DUMMY WITH LOW SATURATIONS TO ESTABLISH THE CAUSE AND EFFECT OF SUCTIONING A TRACHEOSTOMY WITH INCREASED OXYGENATION. ALLOW THE STUDENTS TO REFLECTS ON THE EXPERIENCE.