"The production of knowledge requires accepting conclusions that go beyond the evidence for them." Discuss this claim.
by Jongjin JUNG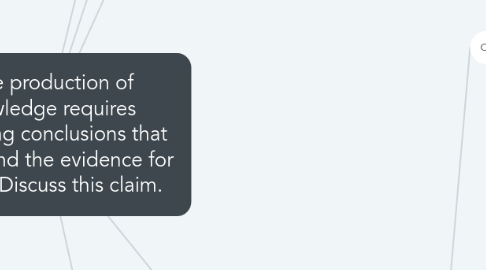 1. Keywords
1.1. conclusion
1.2. evidence
1.3. production
1.4. knowledge
1.5. acceptance
2. Key Phrases
2.1. Production of Knowledge
2.1.1. complex and time-consuming process
2.1.2. think of an idea, decide to pursue it further
2.2. Accepting Conclusions
2.3. Conclusions that go beyond the evidence
3. Rewrite
3.1. Rewrite the Knowledge question
3.1.1. Sometimes rely on something that is hypothetical
3.1.2. doesn't have to be proven true as long as it can take it to the next level
4. Rewrite
5. Connections to Classes
5.1. Chemistry
5.1.1. Natural Sciences
5.1.1.1. heavily relies on physical evidence, however, sometimes conclusions beyond evidence is essential as there is no guarantee that there would always be solid evidence that would support a theory
5.1.2. Bohr's Atomic Model - deals with electron behaviour
5.1.2.1. Back then, electron microscope did not exist that it was impossible to visually recognise the accurate model of an atom.
5.1.2.1.1. Imagination
5.1.2.1.2. Framework Area
5.2. Mathematics
5.2.1. Mathematics
5.2.2. Induction
5.2.2.1. Evidence may affect the level of confidence, but not the level of faith
5.2.2.1.1. Faith
5.2.2.1.2. Framework Area
5.2.2.2. 523 BCE, originated from India
5.2.2.2.1. Faith
5.2.2.2.2. Scope and Application
5.2.2.2.3. a
5.2.3. Imaginary Numbers
5.2.3.1. My grandfather who was a Buddhist - was influenced since the young age
5.2.3.1.1. However, I was very young that my reliance on sense perception was very high
5.2.3.1.2. No empirical evidence about god, as a child, there was nothing to rely on
5.3. Mathematics
5.3.1. RLS/PK Connections
5.3.1.1. Connection/Term/Concept
5.3.1.1.1. WOK
5.3.1.1.2. Framework Area