Babysitting
by Carmen Rita Santos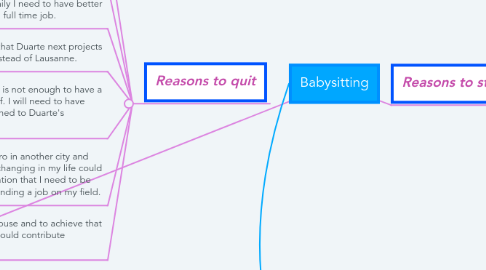 1. On the other end, we are already thinking about having a family. But we also want to give to our kids the best conditions possible and for that I will need to find a better house and a full time job.
2. Conversation with Donia
2.1. Duarte was asked to renew his permit until December and we believe that now we have better chances to get our B permit.
2.2. We will ask for them to giving me one permit as well. Duarte will need to guarantee that will pay my insurance and that we have an enough amount so that I can be here.
2.3. Even in these conditions, there's still a chance of having my permit rejected.
2.4. In that case, I will need to ask me to give me a contract without a terminus date.
2.5. With Duarte always travelling to Zurich I can also try to find an opportunity there and start our plans there.
2.6. So, it's likely that I will need to quit in January or as soon as I find a full time job. I hope you understand.
3. Arguments
3.1. Donia
3.2. I'm not feeling comfortable giving you a contract knowing that you are about to leave.
3.3. Carmen
3.3.1. I completely understand. I don't want to leave your family until I know that you have a solution. I can still help you during the mornings and with the extra hours during night or when you and Vincent are travelling. But during the afternoon I believe that will be difficult for me after January.
4. Reasons to quit
4.1. On this phase, I want to plan for having a family with Duarte.
4.2. When I came to Switzerland my aim was to find a full time job
4.3. To have a family I need to have better conditions and a full time job.
4.4. It's more likely that Duarte next projects will be in Zurich instead of Lausanne.
4.5. The payment is not enough to have a permit by myself. I will need to have my permit attached to Duarte's permit.
4.6. Starting from zero in another city and introducing some changing in my life could give me the motivation that I need to be focused again on finding a job on my field.
4.7. We need a better house and to achieve that would be good that I could contribute more.
5. Reasons to stay
5.1. I have a salary that allows me to do some savings and also pay the groceries
5.2. From the social point of view, I'm not "alone": I work for a good family and they are smart, polite and very educated. I'm also learning a lot with them.
5.3. We still don't know where will be the next project. For example, If Duarte's next project will be in Lausanne area, I can regret moving from here having a salary here. It would be like I was starting from zero again. Is it that so good?
5.4. I really like this family and I will miss them.