What is the difference between Input and Output Devices
by
Thomas Clegg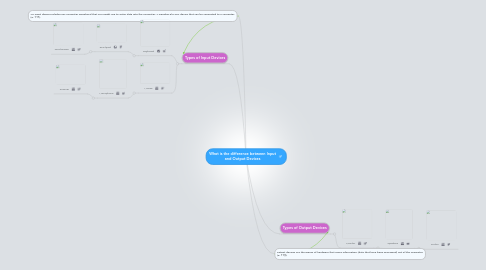 0.0
stars -
0
reviews range from
0
to
5
What is the difference between Input and Output Devices
Using MindMeister, create a mind map that illustrates the difference between input and output devices. Provide at least one example device for each. For each example device, describe the benefits and challenges associated with incorporating it into the classroom, and identify at least one application to learning
output devices are the pieces of hardware that move information (data that have been processed) out of the computer. (p. 119).
An input device includes any computer peripheral that you might use to enter data into the computer. A peripheral is any device that can be connected to a computer. (p. 117).
Types of Output Devices
Monitor
Monitors are the visual, soft record of the computer system. This displays the work as it is being done.
Types of Input Devices
Keyboard
The basic keyboard is the primary means for inputting information into a computer system.
Mouse
The mouse, developed by the late Steve Jobs, has been relitively unchanged since its inception. This enables manipulation of the cursor on the computer monitor screen.